IDPs in Dighomi now own their rooms
By Messenger Staff
Tuesday, March 23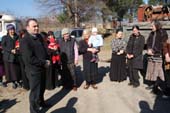 On March 22 Georgian Minister of Refugees and Resettlement Koba Subeliani granted twelve IDPs families possession of their accommodation. They live in the Hydrological Centre building in Dighomi. The Minister handed over documents which confirm that the rooms the 12 families live in now belong to them.
The IDPs from Abkhazia have lived in the building for 17 years. Recently high winds tore the roof off this building. The Minister came to observe the repairs undertaken since then.
"Since 1993 we have been living here. For 17 years no one has paid any attention to us," stated IDP Nana Ochigava. She added that the building's windows had also been broken by the storm. The Ministry promised it would re-roof the building when the storm passed but before arriving the Minister had not said anything about making the rooms over to them. "The Minister told us the rooms would be assigned to us and this makes us very happy," she said.
Koba Subeliani also said that the Ministry would arrange the construction of a gas pipeline to this district. "This was one of the facilities damaged by the disaster. The roof repair works have begun and by the President's order those who want these rooms can have them. In this building IDPs will have the opportunity to live in normal conditions. Together with the IDPs we construct a gas pipeline," the Minister stated.