Obama salutes Saakashvili at summit
By Gvantsa Gabekhadze
Thursday, April 15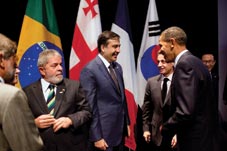 President Barack Obama has once again expressed his support of Georgia's sovereignty and territorial integrity and welcomed President Saakashvili's continuing commitment to democratic reforms at the Nuclear Security Summit in Washington, both the White House and Georgia's Foreign Ministry stated on April 14.
The summit opened on April 13. The American President greeted the representatives of 47 nations who are taking part in the two day summit which aims to reach agreement on an action plan for securing all countries' nuclear material within four years so that it cannot be stolen. Although Georgia does not have any kind of nuclear weapons the President of Georgia is also attending the summit.
"President Obama welcomed the opportunity to meet Georgian President Mikheil Saakashvili during the Nuclear Security Summit. The President reaffirms the United States' support for Georgia's sovereignty and territorial integrity and welcomes President Saakashvili's continuing commitment to democratic reforms. The President also expresses his appreciation for Georgia's significant contribution to Afghanistan," said a statement released by both the White House and the Georgian Foreign Ministry. In addition Georgian Foreign Minister Grigol Vashadze said, "The United States of America will never allow Georgia to become isolated. Despite numerous attempts by the Russian Government to stop this Georgia is being supported by many important and influential countries and the Georgian President's invitation to the summit is obvious confirmation of this. By making this invitation the United States has sent a serious message to Russia and the rest of the world. We have no nuclear weapons and accordingly we should not have been in the list of invited countries, however our President is in Washington now, as our participation in this summit is first of all a political message," Vashadze said.
Georgia's invitation to the summit has aroused comment. Analyst Zurab Abashidze told
The Messenger
that this summit was not only for those countries with nuclear weapons but those at risk of being involved in nuclear conflict. "Nuclear security does not concern only those countries with nuclear weapons. Georgia does not have nuclear weapons but from a strategic viewpoint Georgian territory is very important and there might be some danger of using our territory for, for example, nuclear weapons transportation. I think that Mikheil Saakashvili was invited to the meeting on this basis. It might also have been a hint for Russia that Georgia has important support from the United States. Nothing can be excluded, as nothing happens by chance," Abashidze said. Military analyst Irakli Aladashvili told The Messenger, "It is no secret that Georgian battalions are being sent to Afghanistan and this is the main topic of discussion for Obama and Saakashvili. However since the August 2008 war the number of important meetings attended by the Georgian President has significantly reduced and Saakashvili would not have missed this chance to meet the leaders of different countries. The threat that nuclear weapons could be transported through Georgia exists, as not long ago a container carrying nuclear substances was stopped. Fortunately there was nothing too dangerous in the container but such threats will always exist because of our location. The most important thing is what the two Presidents will talk about and what benefits their conversation will bring Georgia," Aladashvili said.
Mikheil Saakashvili has given an interview to America's National Public Radio (NPR) in which he talks about why he was invited to the summit. "Georgia wishes to discourage the spread of nuclear weapons in the world, this is the aim of my attending the summit. Building a democratic country is the best way of doing this and we are fighting to achieve this goal. There was an attempt to use our territory for uranium transit, but we stopped this. Threats still exist and we will do our best to combat these," Saakashvili said.
The President also responded to Russian accusations that America is using humanitarian assistance to Georgia as a cover for military assistance. "This is part of Russia's Cold War rhetoric. Georgia is too small to be any kind of military danger to Russia," he said. Saakashvili also talked about the Imedi hoax TV programme and said that he had had no information about the programme's content. "I would have been crazy to allow such a programme to be broadcast if I had known its content. It said that the Georgian Army had betrayed the country and the President, me, had been killed. Any Government would have been crazy to accept such statements being made," Saakashvili said.
During his visit the Georgian President will also meet Vice President of the United States Joseph Biden and Senator Richard Lugar.