Georgia tries to stamp out juvenile crime
By Salome Modebadze
Thursday, April 15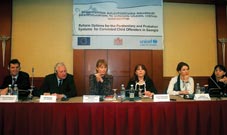 The Government of Georgia, UNICEF and the European Union reviewed the midterm achievements of their two-year partnership project
Reform Options for the Penitentiary and Probation Systems for Convicted Child Offenders in Georgia
at the Courtyard Marriott Hotel on April 14. The project, implemented in 2009 by the Ministry of Corrections and Legal Assistance, Ministry of Justice and UNICEF with the financial support of the EU, aims to establish a juvenile justice system focused on rehabilitating young offenders and reintegrating them into society.
Khatuna Kalmakhelidze, Minister of Corrections and Legal Assistance, gave brief information to the ongoing changes in the juvenile justice system to the media. She stressed that the Ministry is establishing Western standards in the penitentiary system, especially with regard to juvenile justice, in order to encourage young prisoners to reintegrate with the rest of the world after they have served their sentence. "The project focuses on developing individual plans for young people, taking into account their individual needs and requirements. The reform will introduce programmes which will help those at risk of imprisonment to avoid this and those serving their sentences to reintegrate as fully-fledged members of society," Kalmakhelidze explained to the media.
The main objectives of the reform are to make the system more juvenile-sensitive and ensure the protection of their rights. The reforms also provide guidelines and training for penitentiary staff. Necessary policy and legislative amendments will be made so that all these changes become essential parts of the juvenile justice system in our country.
"The EU has significantly supported and promoted the reforms in the juvenile justice system. Cooperation with the Government of Georgia, UNICEF and other local NGOs has proven successful. The main goal of the meeting today is to analyse all our achievements and we are really glad that the progress being made in this field is notable," Per Eklund, Ambassador and Head of the Delegation of the EU to Georgia told the media before the conference. "We appreciate the Government's efforts to adopt a new juvenile justice strategy and Code of Imprisonment (increasing the age of criminal responsibility from 12 to 14), prioritise the rehabilitation of young offenders and increase the reliance on non-custodial sentences. Strengthening the alternatives to juvenile detention is an important issue, which protects child rights and aims to ease their social rehabilitation," Roland Monasch, the UNICEF Representative to Georgia, added.
The project has been successfully implemented in the Educational Establishment for Juveniles of the Penitentiary Department and Prison Number 5 for Women and Underage Girls, where the staff have been trained in how to have contact with the prisoners without violating their rights. These facilities were repaired and provided with all the necessary equipment to encourage the inmates to learn new skills and follow some vocational programmes. Children were also provided with psychological assistance so that they could talk about their offences and their feelings in order to understand the impact of the crime on themselves and the people around. These steps are designed to prevent future juvenile crime.