Russia denies links with highly enriched uranium case
By Mzia Kupunia
Wednesday, April 28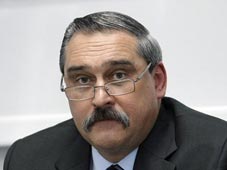 Georgian President Mikheil Saakashvili's allegation that highly enriched uranium is being imported into the Caucasus from Russia is an "ungrounded accusation," official representative of the Russian Foreign Ministry Andrey Nesterenko said. According to information posted on the Russian Ministry of Foreign Affairs' official website on April 26, Nesterenko criticised the Georgian side for "almost every day" making statements about "all kinds of sins committed by Russia."
Nesterenko assessed the statement made by President Saakashvili on April 22 during an interview with the Associated Press as an attempt to "start a new anti-Russian political scandal." "As for the allegations that the Russian Federation has anything to do with the nuclear materials impounded by the Georgian police in March, we want to state that these statements are ungrounded and are based only on words," the Russian Foreign Ministry's official representative stated. "We would like to underline that officials in Tbilisi have no proof that Russia or any other state is linked with this incident. This makes us think that in this case we are dealing not with facts but a badly planned provocation. This is yet another attempt to inflate an anti-Russian political scandal," Nesterenko added.
The Russian Foreign Ministry official criticised Saakashvili for "ungroundedly" calling Georgia's breakaway regions of Abkhazia and South Ossetia, recognised as independent states by Russia, "havens for nuclear smugglers." "We can clearly see here an attempt to gain revenge for past defeats. It is obvious that the Georgian regime is not happy with the strengthening sovereignty of these two states. However Mr. Saakashvili should first of all blame himself for this. Nobody has done more than him to induce the withdrawal of Abkhazia and South Ossetia from Georgia," Andrey Nesterenko said.
The Russian Foreign Ministry has called for a "thorough investigation" into all alleged cases of nuclear materials smuggling, using the competent services of the interested states and the International Atomic Energy Agency (IAFA) if needed. "Only after this can we draw any conclusions. On our side, we are ready to cooperate in this issue," Nesterenko stated.
Georgian President Mikheil Saakashvili accused Russia of "creating instability in the region" which according to the President "suits smugglers". He said that since declaring Abkhazia and South Ossetia as independent, both of them have become "black holes" in the region. "Russia is responsible for ensuring the non-proliferation of nuclear arms on the territories it has occupied. Incidents related to highly enriched uranium create dangers for Georgia," the President said, according to news agency
Interpressnews
.
On April 14 the Georgian Interior Ministry released a statement that in March the police had detained a group of foreign citizens who possessed a "small amount" of "highly enriched" uranium. The Ministry said the case is under investigation. "The Georgian side has already informed the International Atomic Energy Agency about the case," the statement reads. According to the Interior Ministry, the radioactive materials are now in a "safe place." The Ministry said that additional information will be published after the investigation is over.