FBI Director comes to Georgia
By Ernest Petrosyan
Monday, May 10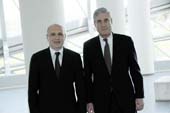 FBI Director Robert Mueller paid his first visit to Georgia on May 6. During it he held meetings with Minister of Internal Affairs Vano Merabishvili and Ministry of Justice Zurab Adeishvili.
In a statement released by the US Embassy in Tbilisi Mueller said that the US and Georgia enjoy a strong bilateral relationship and progressive and productive cooperation. "We are working together productively on a broad range of issues, and while this is my first trip to Georgia, I've known for many years about our long, shared history of law enforcement cooperation. Georgians recognise the important work done by law enforcement officers throughout the country and I'd like to commend Minister Merabishvili and his Ministry for the progress they have made in terms of professionalism and transparency," stated Mueller.
The FBI Director also touched upon the education and training aspects of the cooperation of the US with its international partners. He noted that the FBI is continually striving to improve cooperation with its international partners through training, liaison and joint investigations.
"The FBI offers extensive training to our foreign partners, both at the FBI Academy and overseas. For example, Georgian Ministry of Internal Affairs officers have received training in Crime Scene Processing and Weapons of Mass Destruction Investigations. Two officers from the Ministry have graduated from the FBI National Academy, with another officer scheduled to attend this summer. Also, within the past year, FBI agents assigned to our Legal Attache office at the U.S. Embassy here in Georgia have provided training to Georgian prosecutors as part of a U.S. Department of Justice programme to assist with Georgia's transition to the new Criminal Procedure Code. Notably, Georgian investigators recently travelled to the U.S. to share their expertise with FBI agents on the topic of Eurasian organised crime," stated Muller.
The FBI, the Ministry of Internal Affairs and the Ministry of Justice have successfully cooperated in the past and will continue to cooperate on a variety of cases, including organised crime, white collar crime, fugitive apprehension, violent crime, and cyber crime, the statement continues.
"We continue to build on our solid foundation of partnership and, indeed, friendship. Law enforcement cooperation among nations is critically important in our shared fight against international crime and terrorism, and I would like to express my sincere appreciation to the Ministry of Internal Affairs and the Ministry of Justice for their outstanding cooperation with the FBI," stated Mueller.
State Minister for Reintegration Temur Iakobashvili told
Rustavi 2
that the U.S. is very much aware that the occupied territories are so-called 'black holes of crime' and the trafficking of illicit arms, drugs and nuclear materials as has been confirmed several times. This is a problem throughout the North Caucasus and the occupied territories and it is obvious that the United States has a special interest in it.
Georgian political analyst Soso Tsiskarishvili has told
The Messenger
that plenty of facts and figures are concealed in Georgia, as is known by the entire civilized world. "What happened at the meeting between the FBI Director, the Interior Minister and the Minister of Justice is a matter of speculation and not something anyone can comment on, since nothing can be really transparent in meetings between people holding such positions," he told us.