Gulashvili flees after Kavkasia incident
By Gvantsa Gabekhadze
Wednesday, May 12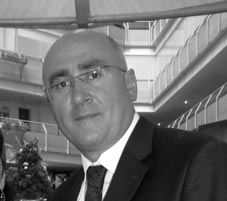 Malkhaz Gulashvili, Chair of the Public Orthodox Movement and Founder of
The Georgian Times
media holding, who disappeared on May 10, emerged yesterday evening to tell news agency GHN that he is now in Tskhinvali following an attack on his son.
"My son was attacked by law enforcement bodies. Someone stopped him for a cigarette and four men kidnapped him and bundled him into a car. On the Vake-Saburtalo road he confronted them, they stopped the car and he managed to jump out and run," Gulashvili told the agency.
Gulashvili's wife was also told that his son would be in danger, he said. He added that he was intending to flee to Baku but as his son's passport had expired he decided to take him to Tskhinvali and go from there to Dusheti on foot.
On May 7 Kavkasia TV talk show Barieri hosted a discussion of Erekle Deisadze's scandalous, anti-Orthodox book Saidumlo Siroba (Holy Crap) which descended into a physical confrontation between supporters and opponents of the book. Members of the Public Orthodox Movement and Union of Orthodox Parents also abused journalist and founder of Kavkasia TV Davit Akubardia, something which has been widely condemned. Leading Georgian TV channels reported on May 6 that Gulashvili had left Tbilisi due to that incident and been seen in occupied South Ossetia, from where he intended to fly to Moscow. This information was partially confirmed by the separatist administration in Akhalgori. "I have tried to gain information concerning this, and have heard that Gulashvili and a certain Khergelashvili are in Tskhinvali now, but I should point out that this is not confirmed information as there has not been any official appeal by them addressed to me to enter this territory," Deputy Head of the administration Aleksandre Baratashvili said then.
At an official press conference held by the Public Orthodox Movement a statement from Gulashvili was read out in which he said he might ask for asylum in some foreign country. "If the political discrimination and violations against my family and organisation are not stopped, I will have to ask for asylum in some foreign country where human rights are protected," said Gulashvili in his statement, read by Movement member Elizbar Javelidze. However, reports that Gulashvili might be in Akhalgori or Tskhinvali were not confirmed. "Gulashvili has not left Georgia and nor is he in Akhalgori now, he is in a monastery in one of the suburbs with his son. At the present moment I cannot contact him as his mobile phone is switched off," Deputy Editor of The Georgian Times Pridon Dochia said. Movement member Leliko Japaridze added that "Reports that Gulashvili has fled are false. He is here, in the country, but I am not going to specify where, as more can be done to his family."
Analyst Gia Khukhashvili says that the situation in the country is becoming very dangerous. "I think the Government is guilty of provoking the Kavkasia TV incident and all that has followed it. After the confrontation the present Government presented itself as the defender of Kavkasia and the Georgian media, which it is not in reality. This is the second attempt by the Government to divide Georgian society: the first was to create pro- and anti-Russian camps and now, more dangerously, pro- and anti-Christian ones. Confrontation based on religious ideology is very dangerous and might impose social collapse. It was obvious that the two sides involved in the Kavkasia dialogue would never agree as they are both radical. The actions of the Union of Orthodox Parents were unacceptable, as they are contrary to Orthodox principles but the other side's pseudo-liberal actions are also very much unacceptable. The only way out of this very difficult situation for the Georgian people is to reject both sides," Khukhashvili told
The Messenger
.