Abkhazia ready to talk to Georgia, de facto Foreign Minister says
By Mzia Kupunia
Wednesday, May 12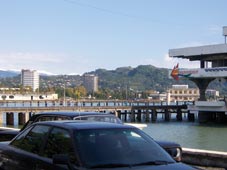 Abkhazia has never rejected holding a "constructive" dialogue with the Georgian side, de facto Abkhazian Foreign Minister Maxim Ghvinjia said in an interview with the
GHN
news agency on Tuesday. "Moreover, we are ready to do so even now," he said. "We have never said no to dialogue and if proposals are good enough and constructive, we are always ready to discuss them," he added.
Abkhazia is ready to start this dialogue even without mediators and undertake joint Georgian-Abkhazian projects, the de facto Minister told GHN. "It does not really matter if the dialogue will be held through mediators or not. Dialogue is always important in order to prevent previous mistakes, I mean the war," Ghvinjia suggested. "The aim of dialogue is to come up with mutually beneficial decisions. It is crucial that this dialogue is constructive," he noted.
Ghvinjia said that ground should be prepared to start a dialogue. "I mean that before actually meeting and starting talks the sides should be sure that none of them will violate the reached agreements. It is very important that the sides agree on the non-resumption of war," the de facto Abkhazian Foreign Minister said. He noted that so far none of the Georgian politicians have expressed a will to start a dialogue with the de facto Abkhazian authorities.
"Relations between Abkhazia and Georgia are so tense by now that we would discuss such appeals from the Georgian authorities, if there are any, in terms of: if they want to come and talk, what exactly are they coming for? What is their aim? What are they going to discuss?" Ghvinjia said "it is still too early for them to just write an appeal and come here. Serious preparatory work should be carried out in advance," he told GHN.
The de facto Minister also touched upon the issue of Georgian opposition politicians' visits to Russia, in particular, the meeting of Georgian Diaspora representatives in St. Petersburg. Ghvinjia assessed this as "positive, all the more if there are any constructive proposals in terms of Abkhazia and South Ossetia made at the meetings."
Georgian Minister for Reintegration Temur Iakobashvili responded to the statements of the de facto Abkhazian Foreign Minister by saying that Georgia is not going to start another war with Abkhazia. "We confirmed this by signing the six-point document in 2008, however if any additional guarantees are needed, we are ready to sign such a document with Russia or with the international community," Iakobashvili stated.
Independent analysts suggest that there are political forces and individuals in Abkhazia ready and willing to talk to the Georgian side. "However, they need a green light from The Kremlin. They cannot take such decisions independently," analyst in conflict issues Malkhaz Chemia has said. "The statement of the de facto Abkhazian Foreign Minister can be considered a means of helping those Georgian opposition leaders who frequently visit Moscow. It could be part of The Kremlin's attempts to hurt the current Government of Georgia ahead of the local elections," the analyst told
The Messenger
.
Chemia suggested that starting negotiations in the nearest future is not "realistic". "All we can expect for now is the intensification of talks in the Geneva format," he said.