Tbilisi ready to talk to Moscow on de-occupation
By Mzia Kupunia
Tuesday, May 18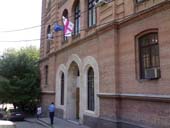 Georgia is ready to start talks with Russia concerning Georgia's de-occupation and territorial integrity, Georgian Deputy Foreign Minister Nino Kalandadze said at the traditional Monday press briefing yesterday in answer to a question raised by opposition politician Petre Mamradze.
Mamradze, a member of the Movement for Fair Georgia led by former Prime Minister Zurab Noghaideli, had earlier held a special press conference on the issue of Georgian-Russian talks. He noted that in televised comments to Rustavi 2 the former Polish President Aleksander Kwasniewski had said that Tbilisi is ready for talks with Moscow "without any preconditions." Kwasniewski had said that his comments were based on information provided by the Georgian Foreign Minister, and Mamradze welcomed this initiative but demanded further clarification.
"We need additional confirmation that this statement is genuine and that the Georgian Government is ready to start a direct dialogue with Russia without any senseless preconditions. If this is so, we welcome the decision of the Georgian Government," Mamradze said at the press conference. "We do not doubt Kwasniewski, but we need additional confirmation because the preconditions which the Georgian Government have previously raised are diplomatically unusual," he added.
The Georgian Deputy Foreign Minister said that she had not listened to Kwasniewski's comments but "all the problems existing on Georgia's territory - the occupation, the recognition of Georgia's breakaway regions as independent states - are related to Russia, Russia is responsible for this situation and Russia should resolve it."
"We want to talk about the abovementioned problems with Russia, we are doing everything we can to make Russia recognise Georgia's sovereignty and territorial integrity. We are negotiating with Russia in the Geneva format, however so far without any success," Kalandadze stated. "The de-occupation, as well as the return of the IDPs to their homes, should first of all be undertaken by Russia, because Russia, as a side of the conflict, is obliged to do this," de Deputy Foreign Minister noted.
Meanwhile a so-called Abkhazian Embassy has opened in Moscow. Official Representative of the Russian Foreign Ministry Andrey Nesterenko and Director of the CIS Department Alexander Kelin, together with de facto Abkhazian Foreign Minister Maxim Ghvinjia and so-called Abkhazian Ambassador to Russia Igor Akhba attended the ceremony. According to Russian officials, the opening of the "Abkhazian diplomatic mission" in Russia will help "make mutual contacts more firm." The de facto Abkhazian Foreign Minister expressed hope that "in the nearest future, Abkhazian flags will be raised in other states as well."
The Georgian Foreign Ministry downplayed the importance of opening the so-called Embassy. "This will not have any international meaning," Nino Kalandadze said, adding that Russia is "doing its best" to legitimise its recognition of Abkhazia and South Ossetia as independent states. "Neither the international community nor any democratic state recognise Abkhazia and South Ossetia as independent states, so these attempts to legitimise the separatists will be unsuccessful," the Deputy Foreign Minister stated.