Europe and the English language come to Tserovani
By Salome Modebadze
Tuesday, May 18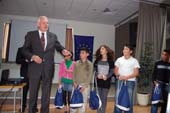 Europe Day was celebrated at the Tserovani IDP Settlement as part of Europe Week on May 17. Per Eklund, head of the EU delegation to Georgia, met the Tserovani residents in their special compact settlement constructed by the Government of Georgia after the August War of 2008. The IDPs learned about the foundation of the EU and European values in a short fim which took them across Europe. Pupils of Tserovani Public School also shared their knowledge of the EU with the foreign guests, received books about the European Union and enjoyed a special cake decorated with EU symbols.
Koba Subeliani, the Georgian Minister of Refugees and Resettlement who accompanied the Ambasador, shared his approach to this issue with the media. "Georgian people should have information about the EU, not only IDPs but Georgians in general. We [Georgians] have historically always belonged to the European family of peoples but our long relations with Russia have separated us from them without our consent. This issue [knowledge of our European past] is also important in gaining an understanding of who actually supports our country, as the IDPs from Abkhazia and South Ossetia are mainly supported by EU member countries," Subeliani stated.
Meanwhile Dimitri Shashkin, Minister of Education and Science, opened the English language facilities at Tserovani Public School No 3 which have been established on the initiative of President Mikheil Saakashvili. The project aims to improve IDPs' knowledge of English, as increasing Georgians' facility in English is one of the most important priorities of the state. Tserovani Public School is the first school in Georgia to be equipped with modern standard lamguage learning facilities and the Minister said this is an important step.
"It is really important that this new initiative has been implemented at the Tserovani Settlement. Tserovani pupils will now have a wonderful opportunity to learn English, using the most contemporary techniques," Shaskin said, stressing that such facilities will be established in other schools in Georgia as part of the project
Teach and Learn with Georgia
in the near future.