Campaign broadcasting monitored
By Etuna Tsotniashvili
Friday, June 11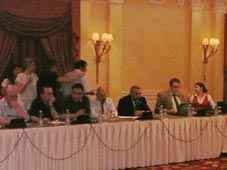 On June 10 the Ukrainian media monitoring company Pro.mova published its final report on the Georgian elections. The report, presented by Pro.mova executive partner and OSCE expert Yevhen Hlibovyrsky, was a qualitative and quantitative analysis of free and paid for political advertisements, news programmes and political talk shows broadcast during the election campaign.
Three Georgian companies, Prime Time, BCG and IPM, also conducted similar monitoring exercises whose results was not much different to the Ukrainian company's. The Georgian companies conducted quantitative and basic qualitative monitoring, but the Ukrainian company produced detailed qualitative and summary quantitative results.
Pro.mova said that Gigi Ugulava had been allotted the most time by
Rustavi 2
,
Imedi
and
GPB
, ahead of Irakli Alasania from the Alliance for Georgia. Alasania was given the most time on Kavkasia, followed by Ugulava. On Maestro Ugulava and Alasania were given equal time.
"The CEC invited Ukraine's leading monitoring company Pro.mova to coordinate media monitoring during the election period. We now have the opportunity to review how each TV Company covered the campaign and take into account the problems they faced in order to resolve them at forthcoming elections," CEC chairman Zurab Kharatishvili told the media. "I think Georgian Public Broadcaster did its best to achieve the best monitoring results and set a good example to other companies of how to broadcast impartially," he added.
"What we were looking for was how well the media did its job and how capable it is of doing so. The media tried hard and probably did better than they would somewhere else but there is huge room for improvement," Pro.mova executive partner Yevhen Hlibovyrsky told
The Messenger
, adding that it would be good for the Ukrainian CEC to work as the Georgian one did during the election period.
The monitoring methodology used was based on recommendations by international experts and meets international standards. The research monitored all news, talk shows and paid for and free political advertisements broadcast on the central broadcasting channels.