NATO stresses reform
By Etuna Tsotniashvili
Monday, June 14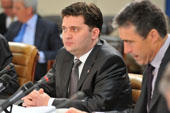 On June 11 the NATO-Georgia Commission held a meeting on Brussels at Defence Minister level at which the current security situation in the country and NATO-Georgia cooperation were discussed. In his speech NATO Secretary General Anders Fogh Rasmussen once again reaffirmed NATO's support for Georgia's sovereignty and territorial integrity, highlighting that NATO's door remains open for Georgia.
"NATO's decision to open its doors to Georgia remains in force but lot of reforms still need to be enacted in Georgia. The Alliance will continue to support and guide those reforms, in particular those in democratic, civilian oversight of defence and security forces," the NATO Secretary General stated.
Georgia's participation in the ISAF (International Security Assistance Force), its implementation of its Annual National Programme and current defence reforms were discussed. Rasmussen extended gratitude to Georgia for its contribution to the NATO-led ISAF operation. "Today we will also look at how we can further support Georgia's reform efforts," he added.
Bacho Akhalaia, Georgia's Defence Minister, said that the work of the NATO-Georgia Commission and the implementation of the Annual National Programme 2010 are proceeding successfully, and that this will accelerate Georgia's integration with the Alliance. "It's critical to underscore that despite security challenges we are rigorously moving forward. We have achieved substantial progress in our defence reforms," Akhalaia stated.
Focusing on ISAF, Akhalaia said that Georgia contributes significantly to the Afghanistan mission and hopes that future cooperation based on an understanding of mutual interests and needs will contribute to our common goals of peace, security and stability in the Euro-Atlantic space. "I would like to underline that Georgia not only receives but also provides significant support to the alliance for its top priority mission in Afghanistan by being one of the largest per capita contributors to ISAF. We are ready for successful implementation of the reform process and are committed to using intensively all the existing partnership mechanisms to accelerate Georgia's integration into NATO," the Minister said.
NATO Defence Ministers reaffirmed the Alliance's continued support for Georgia's sovereignty and territorial integrity and its aspirations for NATO membership. They encouraged Georgia to pursue necessary reforms and reiterated the Alliance's readiness to continue supporting the country in this regard.