Opposition want to unite, but....
By Gvantsa Gabekhadze
Monday, June 14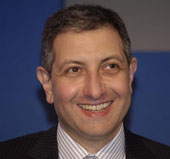 The regrouping of opposition parties after the local elections is proceeding painfully. Though each opposition leader says unification is necessary they are still busy attacking each other.
The main point of discussion at present is how to unify around an idea rather than an individual leader. Sozar Subari, former co-leader of the Alliance for Georgia, raised this idea and Zurab Noghaideli, the former Prime Minister, is pursuing it. Noghaideli held a meeting on June 10 with Irakli Okruashvili, the former Defence Minister and leader of the Movement for United Georgia who now lives in enforced exile in Paris, and released a statement which calls on the various opposition parties to establish joint structures which would provide an alternative to Saakashvili's "authoritarian and corrupt" regime. Noghaideli, known as "minus one" because several opposition leaders have said they will talk to all other opposition leaders "minus one", he being the one, stated after the meeting with Okruashvili that "This should be a broad union, whose doors should not be closed to anyone." Noghaideli said that a large and powerful opposition union is needed based on common ideological principles.
The Alliance for Georgia is not expected to be part of a possible coalition formed by Noghaideli and Okruashvili. Levan Gachechiladze, Chair of Defend Georgia, has joined Nino Burjanadze and the National Council in criticising its leader's inconsistency. "Irakli Alasania has failed to consolidate the opposition; he was defeated in these elections... we should assess the election results realistically, but if we start looking for simulations, then I deem Alasania and the entire Alliance for Georgia a Saakashvili-inspired simulated opposition," Gachechiladze said. Alasania made counter accusations against Gachechiladze but said that his statement was not significant. "It seems Gachechiladze has joined those who want to blame others for their bad luck. However his views are meaningless for us, and they seem to be for the general public too," Alasania said.
After these statements the two leaders spoke face to face during a
Maestro TV
-organised debate, in which Gachechiladze said that he hates debating with Alasania, especially when their debates make some other forces happy. "I do not criticise Alasania personally, but I do not like the way his political team has chosen after the elections," Gachechiladze said on June 12. The debates were conducted peacefully, the participants shaking hands and saying that they can agree on the common goal, meaning the replacement of the present Government, however their opinions on how to achieve this still differ. Alasania will attempt to change the Government by means of elections, Gachechiladze through street rallies primarily.
Analyst Gia Khukhashvili told
The Messenger
, "It is a paradox for opposition parties to talk about unification around a common idea while at the same time criticising one another for their views. I welcome the idea of ideological unification and the calling of a public convention, as suggested by some opposition parties, however all political parties are trying to dictate to the people the rules of the game, instead of listening to the people and taking their views into consideration. This was the idea behind calling a public convention, but as I understand it the parties have changed their minds and will follow the old practice of discussing issues internally, without public involvement. If this practice continues, the opposition will not be able to become an alternative force," Khukhashvili said.