Parliament Chair visits NATO
Friday, June 25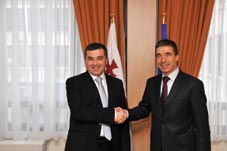 At the meeting at NATO headquarters David Bakradze, Chairman of the Parliament of Georgia, and Anders Fogh Rasmussen, Secretary General of NATO, discussed the occupied territories of Georgia and the local elections of May 30.
Anders Fogh Rasmussen once more confirmed his readiness to visit Georgia. The NATO Secretary General will probably visit Tbilisi in autumn, before the Lisbon Summit.
David Bakradze took part in the sitting of the North Atlantic Council. 28 Ambassadors from various countries once more expressed their willingness to help Georgia ensure the deoccupation of the occupied regions.
"It was stated that Georgia remains one of the crucial and principal partners of NATO. The obligation undertaken in Bucharest is still in force and Georgia will definitely become a member of the alliance," David Bakradze stated. He added that the Ambassadors and the Secretary General had given a positive assessment of the ongoing reforms in Georgia. They also have a common position regarding the restoration of the territorial integrity of Georgia.
"We discussed particular steps that could be taken within the format of NATO to end the occupation, and defend the principle of the territorial integrity of Georgia," David Bakradze stated.