Austria shows interest in Georgia
By Etuna Tsotniashvili
Friday, June 25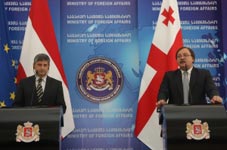 On 24-25 June Federal Minister of Foreign Affairs of Austria Michael Spindelegger is paying a two-day official visit to Georgia. Yesterday he met his Georgian counterpart Grigol Vashadze and discussed a broad range of bilateral and multilateral relations, underlining the importance of enhancing political, economic and cultural relations between Georgia and Austria. Topical issues of Georgian-EU cooperation and its prospects of development and significant regional and international issues were also discussed.
"The visit of the Austrian Foreign Minister to Georgia shows how much the Council of Europe is interested in this region and Georgia in particular," Vashadze stated after the meeting. "We had an interesting meeting and discussed several important issues. The major accent was on economic projects, Georgia's integration with the EU and the major challenges Georgia faces at present, including security issues," he added.
Spindelegger is being accompanied by a delegation of businessmen. As part of the visit an Austrian-Georgian business forum was held at the Tbilisi Marriott Hotel in which 70 companies participated, including 40 Austrian ones from different spheres including tourism, agriculture and construction. "40 Austrian businessmen who would like to cooperate with Georgian businessmen have come to Georgia. We have attended the business forum and I want to say that interest in Georgian business is very big, as is also confirmed by our businessmen's visit to Georgia," the Austrian FM stated.
The business forum was attended by PM Nika Gilauri, who stated that Georgia has overcome a tough crisis and 2010 will result 5% growth. "Last year was not an easy one, however Georgia managed and ended the year with 3% economic growth, the best indicator in our region. We think that this year we will end up with 5% economic growth," Gilauri said.
Gilauri highlighted that Georgia's economic philosophy is that more jobs should be created in the country. "We try to make it as easy as possible for businesses to operate in Georgia," Gilauri said.
The Austrian Foreign Minister has also met President of Georgia Mikheil Saakashvili and Prime Minister Nika Gilauri.