The opposition have joined the Government, says Gachechiladze
By Gvantsa Gabekhadze
Monday, June 28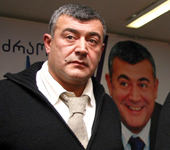 Irakli Alasania has become part of the present authoritarian system, leader of Defend Georgia Levan Gachechiladze said on June 26.
"At present, willingly or not, part of the opposition has become part of the Government and labels the rest of the opposition "marginal". Those opposition members I consider to be part of the present criminal system are those being suggested for senior posts, meaning Viktor Dolidze and Zurab Abashidze (members of Alasania's Our Georgia- Free Democrats). Alasania himself can also be considered part of the authoritarian regime," Gachechiladze said. He also considers Parliamentary opposition MPs Gia Tortladze and Paata Davitaia tools of the authorities.
Gachechladze said that there are however some opposition parties not connected with the authorities. "The parties who refuse to have any connection with the present Government should achieve their aim by radicalising. One of the most important ways to replace the present Government will be to convene a national council and work to increase its membership," Gachechiladze said. However he did not specify whether he thought former Government members like Nino Burjanadze, Zurab Noghaideli or Irakli Okruashvili were part of the uncompromised opposition. "I met Noghaideli and Okruashvili because I have many questions to ask them. I will talk about this in more detail when it is time, there is no problem," Gachechiladze said.
Viktor Dolidze has responded to Gachechiladze by saying that "I am not interested in statements made by opposition members driven to desperation. We have serious goals to achieve, at City Hall and elsewhere."
Despite the mutual criticism the goal of removing the Government remains the link between the various opposition groups. Following the National Council's, Noghaideli's and other opposition parties' statements on unification, the National Forum called for the same on June 27. "We are ready to collaborate with all opposition parties to achieve two vital goals – the replacement of the present Government and a people's government taking power," Gubaz Sanikidze, head of the National Forum, said. Other parties have not yet responded to this call, possibly because the future of the existing alliances is unclear, the latet development here being that the much criticised Zurab Noghaideli has left the National Council. The Georgian media have reported that in addition to the "ideological differences" between Noghaideli and the Conservative and People's parties,( the other members of the National Council, ), Noghaideli has refused to hand over his promised funding and only financed its campaign in the two precincts, where members of his Movement for Fair Georgia stood.
Georgian analysts call the ongoing processes in opposition 'regrouping' but find it difficult to say what a regrouped opposition spectrum might look like.