US-Georgia business summit
By Messenger Staff
Thursday, September 9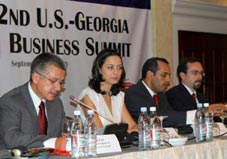 Tbilisi is hosting a two-day US-Georgian business summit on September 8-9. The summit aims at promoting trade and investment relations between the two countries, according to Georgian officials. US Deputy Assistant Secretary of Commerce, Juan Verde is attending the summit, organised by the US Department of Commerce, the US Embassy and the American Chamber of Commerce.
The Minister of Economy and Sustainable Development of Georgia, Vera Kobalia attended the first day of the summit. Speaking at the opening ceremony, Kobalia highlighted the importance of developing US-Georgia trade and economic relations. "These kinds of forums are very important for representatives of the business sector, because they get an opportunity to personally meet potential US partners and attend presentations about the export of Georgian products to the United States of America," the Georgian Economy Minister noted, adding, "the businessmen receive information about export opportunities and the standards that should be met."
US Deputy Assistant Secretary of Commerce, Juan Verde said that Georgia is one of the five priorities among 52 European and Asian countries. According to Verde, this means that the US government has allocated more resources for Georgia and is carrying out more programmes in the country to promote the development of areas of trade and investment. US Deputy Assistant Secretary of Commerce said that the Georgian government is creating a "proper environment" for business and for private initiatives. Verde noted that the US government is supporting the flow of US investments into Georgia and the development of firm trade relations between US and Georgian companies.