Medvedev responds to Lukashenko
By Etuna Tsotniashvili
Tuesday, October 5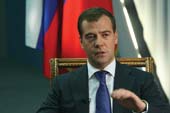 "The recognition or non-recognition of Abkhazia and South Ossetia is a sovereign right of any country, and we have never tried to pressure any of the countries over this issue," Russia's President Dmitry Medvedev stated on October 3. Responding to his Belarusian counterpart Alexander Lukashenko in his video blog released on the Kremlin website, Medvedev called Lukashenko's actions and statements "dishonourable".
"This issue has turned into subject of ceaseless political horse-trading. But Russia does not trade with its principles," Medvedev said in his video blog, reminding Lukashenko of his pledge to recognise the independence of Georgia's breakaway Abkhazia and Tskhinvali Region. But Lukashenko is still hesitating to join the three states Nauru, Nicaragua and Venezuela that have recognised the independence of occupied territories.
Medvedev stated that Lukashenko has "gone beyond not only diplomatic rules, but basic rules of behaviour" in his recent public statements. He accused the Belarusian leader of building his campaign for re-election in December's vote on hysterical anti-Russian rhetoric.
"This is dishonourable behaviour and partners do not act like this. Of course we will take it into consideration while building our relations with the current President of Belarus."
Belarus President Alexander Lukashenko blamed the Russian government for Minsk' non- recognition of Georgia's rebel regions Abkhazia and South Ossetia stating that Belarus was ready to recognise Georgia's two breakaway regions. On October 2, at a news conference held for Russian journalists Lukashenko explained the reasons why Minsk delayed its decision regarding the recognition, highlighting that Moscow refused "to share" the negative consequences that Belarus could expect from the West should it make that decision.