Georgia and Iran sign visa free travel agreement
By Mzia Kupunia
Friday, November 5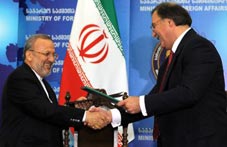 Georgian Foreign Minister Grigol Vashadze and his Iranian counterpart Manouchehr Mottaki signed a visa free travel agreement late on Wednesday. The document will come in to force at the beginning of 2011, according to the Georgian Foreign Ministry. The Iranian top diplomat described the signing of the agreement on a visa free regime as a "historical" step.
"By abolishing visa procedures, the two countries have restored historical tradition, when we could travel [in Georgia and Iran] without any obstacles," Mottaki said, adding that a visa free travel regime will help developing tourism and increasing the number of tourists.
The abolition of the visa regime will promote the development of mutual relations between the two countries, the Georgian Foreign Minister, Grigol Vashadze suggested. "I am glad that we managed to sign the document in 2010. I would like to note that it is a big leap in Georgia-Iran economic relations," the Minister noted. According to Vashadze, the number of Iranian tourists visiting Georgia has increased by 173 percent in the current year and trade balance has gone up by 63 percent.
Iran's Government will call on private companies to invest in Georgia, Minister Mottaki said at a joint press conference with Vashadze. He named transport, energy and transit as the fields of biggest interest for Iran in Georgia. "Compared to last year, the economic cooperation [between Iran and Georgia] has doubled. We are trying to make trade relations more intense," Manouchehr Mottaki stated.
Iran is ready to play an "important role" in solving regional problems, the Iranian Foreign Minister told journalists. "Stability in the region is a guarantor of peaceful coexistence and economic development," Mottaki said, reiterating Tehran's support towards Georgia's sovereignty and territorial integrity. "Territorial integrity is a main principle of the relationship between the countries. We hope that the problems existing in the region will be solved in a peaceful way," he added.
Authorities in Moscow meanwhile have expressed hopes that tight cooperation between Tbilisi and Tehran will not be directed against a "third party". Official Representative of the Russian Foreign Ministry, Andrey Nesterenko said Georgia and Iran are parts of a "complicated region". "I hope that these two countries getting close will not be directed against any third country," however Nesterenko did not specify which country he meant.
Some Georgian analysts have described the signing of a visa free regime with Iran as a "risky step". "This step is very important in terms of economic development, however I would like to believe that this decision has been agreed with our Western partners," analyst Mamuka Areshidze said "Otherwise it could be a very dangerous step and could bring some negative results," he added.
Economic analyst, Gia Khukhashvili suggested there is no necessity for "accented cooperation" with Iran. The analyst said Iran is a "serious player" in the region and there is a need to have certain relations with Tehran. However, Khukhashvili pointed out that there is a need "to be careful." "We state that USA is our strategic partner and that our values are directed to the West, We do not have a visa free regime with the West and are starting such relations with a country which is not so compatible with Western standards. This raises some questions," the analyst said.
On Thursday - the second day of his two-day visit to Georgia, the Iranian Foreign Minister travelled to Adjara and opened Iran's Consular Office in Batumi.