Multi-party election talks imminent
By Gvantsa Gabekhadze
Wednesday, November 10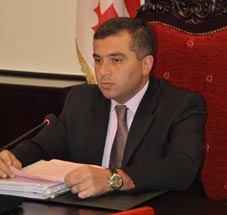 "We will name the date of starting negotiations with the authorities and oppositional factions, concerning the election environment in the country, in the next few days, as, in fact all the organisational issues are complete and we are now in the final stage of consultations," announced the Speaker of the Parliament of Georgia, Davit Bakradze on November 9.
"Consultations with the opposition parties wishing to participate in the negotiations with the authorities regarding the election environment are almost complete. Very soon we will make public the actual date of launching negotiations will be made public," stated the Speaker.
Late on November 8 Bakradze met with the leader of Our Georgia-Free Democrats, Irakli Alasania. The Chair of Our Georgia-Free Democrats press service, Vako Avaliani stated, "The meeting was agreed with other opposition parties and it was initiated by the parliament speaker. They have agreed on that in the coming days, a meeting should be arranged for those interested."
According to the leader of the Conservative party, Zviad Dzidziguri, the negotiation process will be fully transparent. He said, "Negotiations on the issue are important. Alasania and Bakradze have agreed on the principal issues regarding launching negotiations. I think that the process will be very transparent for society. "
One of the leaders of the opposition Labour Party, Nestan Kirtadze told
The Messenger
, "We don't think these negotiations will yield any positive results. The present authorities and their leader, Mikheil Saakashvili, have done their best to hold on to power, for at least 10-15 years, according to the new constitution they have adopted. They will not do anything to hinder them retaining power and from this point of view, free and impartial elections are not in their interests."
According to analyst Irakli Sesiashvili, "This is an artificial process, aimed at confusing the Georgian public and dividing the opposition. A normal authority does not need ten years to realise that the country has problems, nor so much time to carry out some measures to resolve them. The authority will continue with this strategy until its term expires," Sesiashvili told
The Messenger
.
Analyst Soso Tsintsadze is not pessimistic about the issue; however he does not consider government-opposition negotiations of the issue as the most important direction of the problem. "I don't expect that after such negotiations the country will turn into a democratic and European country; however the negotiations are some kind of test for the authorities and for those opposition parties that initiated the collaboration with the government. The authorities should prove to the inner and outer forces that negotiations with the authorities are possible, and those opposition parties, which initiated the negotiations should show the other opposition parties, which are sceptical about the issue, that their way is better," Tsintsadze told The Messenger, adding, "The most important issue here is the political awareness and culture of the electorate. While there still remain some voters who take GEL20 to vote for some faction, nothing important can be expected. I think that working for growth of the electorate's responsibility and awareness of the process is the most important thing. If the electorate feels greater responsibility towards the elections, no negotiations on changing the election environment or document signing are needed."