Computer Factory to be built in Georgia
Wednesday, November 10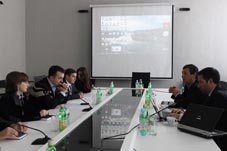 Some of the world's leading companies are interested in constructing a new computer production factory in Georgia. The Minister of Education and Science of Georgia, Dimitri Shashkin held a meeting on the issue with Jorge Sa Couto, the founder of Intel netbook production company in Portugal, JP Sa Gouto, and Luis Silveira Pinto, a business manager of the famous "Magellan" project.
Georgia's successful involvement in the "Magellan" project was noted at the meeting. The project envisages distribution of netbooks among first graders. This year pupils at the pilot schools have been provided with the computers. All first graders will be given netbooks free of charge in the next academic year.
In order to implement this project, the Portuguese side is ready to develop computer production in Georgia that will create new jobs in the country and at the same time, decrease the cost of the computers. Other computers as well as the netbooks will be produced in Georgia that will make computers more accessible to the public.
Construction of a computer factory became feasible after the signing a Memorandum of Cooperation between the Minister of Education and Science of Georgia, Dimitri Shashkin and Vice President of Intel, John Davies.
Leading company, Intel will provide the factory with high quality processors.