Okruashvili does not want power
By Gvantsa Gabekhadze
Tuesday, November 16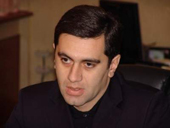 99% of Georgian political factions are useless, unable to win any elections, or able to speak about how to remove the present authorities- one of the leaders of the new opposition 'Georgian Party', Former Defense Minister of Georgia, Irakli Okruashvili stated in his interview with Kviris Palitra, on November 15.
"Tributes and weekly briefings alone are not enough for a political party. Quarrelling on the simplest issues among the opposition simply results in strengthening the position of the present authorities. We (members of the Georgian Party) have analysed the situation, overcome very significant obstacles and reached the idea of unification. The Georgian Party will very soon become a very powerful party machine to change the present regime," Okruashvili said.
The former official stated he intends to finish the job he started in 2007 without assuming power himself, "I will not give up the path I started several years ago, that is to change the present authorities. The Georgian people can just consider me as a watchman, who will do his best not to have people like Mikheil Saakashvili achieve power. It is not necessary for me to be in power to achieve this goal."
At the same time, Okruashvili has criticised the Representative Public Assembly, "I am very sorry that on November 25 (the date of the meeting of the Representative public assembly) one more bubble will burst and the Georgian people will once again be disappointed. Those respected people's intention, who are related to with the Assembly, to end the governance of the present regime will be useless without the involvement of a strong political spectrum in the fight. Nino Burjanadze, (leader of Democratic Movement-United Georgia) who connected with the Assembly, cannot even manage to collaborate with the less influential political sector. Therefore I am sure they won't be able to even rattle the present government's power."
Member of the Representative Public Assembly, Irakli Batiashvili, advised Okruashvili to think more about his past mistakes, rather than criticising the Assembly, saying, "If he is really keen to fight then he should just come to Georgia and prove it. Making comments from Paris is easy. It would be better for Okruashvili to think over his mistakes and refrain from making negative comments about the Assembly. Despite his past, I have no negative feelings towards him."
Analyst Gia Khukhashvili told The Messenger, "The Public Assembly idea was very acceptable from the beginning. Accordingly, people respected by the public should be involved in the issue and not only those who are politically motivated. However from the start it has been political movements that have grasped the reins, which has significantly reduced the effectiveness of the idea. I do not want to be overly sceptical, however there is a threat that the Assembly will simply become a political stunt, rather than a massive public representation," Khukhashvili stated.
Another analyst commenting on the issue, Analyst Irakli Sesiashvili said, "There is practically Bolshevik mode of governance in the country, thus the creation of oppositional political bodies such as the Georgian Party is interesting; there are people in the party like Sozar Subari and Levan Gachechiladze that I know and respect. I will have the chance to comment on party perspectives once they become involved in political life." In addition the analyst called upon the opposition factions to refrain from making negative statements towards one another. He said, "I will give advice to the opposition in general. They should not make negative statements about each other as this reflects negatively upon them and in their results. They should pay more attention to political culture and be united on some common issues. I do not support the unification of different opposition political factions, but there are some issues on which most of the parties share a common attitude; they should be united around these issues and act more seriously in order to implement the common goals."