Tbilisi slams opening Russian military town in Abkhazia
By Mzia Kupunia
Monday, December 13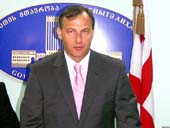 Moscow's aims to transform occupied Gali territories into a military settlement, Chairman of the legitimate Abkhazian government in-exile, Giorgi Baramia said on Friday. His statement followed the reports of the de facto Abkhazian authorities opening its first military town in the village of Pichori in Georgia's breakaway region of Abkhazia.
"By opening a Russian Security Service border department military town close to the administrative border with Georgia, the Kremlin is trying to underline, that the Abkhazian territory belongs to Russia and not to Georgia," Baramia said. The Chairman of the Abkhazian legitimate Government suggested that out of 6 Russian military bases deployed in Gali region, Pichori military base has a "special importance." "All other bases in the region are being coordinated from this place. All the destructive and anti-state actions directed from Russia towards Georgia are being managed from that point," Baramia told journalists.
Russian officials and de facto Abkhazian authorities opened the first military town for Russian border officers deployed in Georgia's breakaway region on December 8. According to Apsnypress information agency the military town constructed on the seaside includes an administrative building and a residential house for the families of the Russian border officers. At first 14 families, including 13 children will arrive in the village of Pichori in the current month, according to Apsnypress.
Speaking at the opening ceremony, the de facto Abkhazian Prime Minister, Sergey Shamba said that two years after signing agreements between Moscow and Sukhumi on "Friendship, Cooperation and Mutual assistance" and about "Joint Defence of State Borders of Abkhazian Republic" those agreements "are being implemented in real life". "The residents of our country can stay calm because our borders are under a reliable defence," Shamba said, adding that several more military towns will be constructed next year.
Officials in Tbilisi suggest the next step of Moscow will be moving the Russian-Georgian state border from the River Psou to the River Enguri. "It would make it even more complicated for the residents of Gali region to move across the administrative border [between Abkhazia and Georgia]," Giorgi Baramia said, adding that the aim of the Russian leadership is to control the whole perimeter of water and land borders, including all crossing points on the Enguri River.