Saakashvili describes Russia as 'an enemy' in public TV interview
By Etuna Tsotniashvili
Thursday, January 27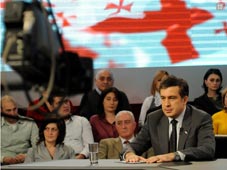 "The war is not yet over… If we are consolidated and… if we continue development we will definitely win this war," President of Georgia Mikheil Saakashvili declared while he was answering peoples' questions nationwide.
Saakashvili said he is looking forward to the time when Russia will no longer be termed as an enemy. "The one who attacks your house, ousts your citizens from their houses, kills them, is an enemy in plain and legal language," Saakashvili said, adding that he will not use the term towards Russia when Georgia is freed, something he sees as inevitable.
According to him, no one would be better equipped than Mikheil Saakashvili in the event of possible negotiations with Vladimir Putin. "I am often asked the question whether I have had the chance to negotiate," Saakashvili said, adding that it is impossible to have negotiations with a political mentality that is at the reptile level and has its mouth open ready to devour a small country.
"They [the Russian leadership] say they want good relations with Georgia. But what is Georgia for them?" he said and added that for Russia Georgia was without Abkhazia and Tskhivnali region.
Saakashvili says that usage of the term 'occupation' was one of the main achievements that had been opposed by Russia with all kinds of blackmails, highlighting that occupation ends with de-occupation for everyone.
Regarding the North Caucasus, and the introduction of 90 days' visa free travel for the region's people in Georgia, the president explained that Georgia's policy of developing closer ties with the people of the North Caucasus was part of the policy to win their hearts and minds.
"My western friends are often asking me – 'why do you need that North Caucasians? Maybe it will be a headache?' And I tell them: 'My dear, if next time our friend Putin sends 50,000 armed Chechens, will your soldiers arrive here to protect us from them?' We should work now in order to avoid that," Saakashvili said.
The President talked about the opposition beginning to weaken and said this will have a positive effect on the country's security. Saakashvili said that opposition could not pass the most important test – their attitude towards corruption and 'thieves-in-law' and other issues.
Saakashvili wishes to have a strong opposition and to be confident that it will be able to substitute the government, without creating chaos for Georgia.
President Mikheil Saakashvili said that he had not forgotten his promises, given during the pre-ellection campaign on supporting pensioners and members of other socially unprotected groups in the country. He noted that, stage by stage, pensions have been increased in the country for the past few years. According to him, other promises regarding increasing pensions to US$ 100 will be implemented. The subsistence level has been increased to 147 lari, and social assistance will be also increased.
On the question of whether he will become PM after his presidential term expires, the President said: "Some, mainly politicians, want to know who will be where in 2013. My major interest is not where I will be, but where my country will be in 2013."
President of Georgia Mikheil Saakashvili was answering the Georgian peoples' questions live on television for almost three hours on January 25.