Meeting held in frames of Cervical Cancer Prevention Week
By Messenger Staff
Thursday, January 27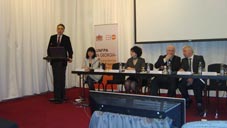 On January 25, the United Nations Population Fund (UNFPA) hosted a meeting within the framework of Cervical Cancer Prevention Week (CCPW) at Radisson Blu Iveria Hotel. The participants of the meeting, which was aimed at presenting PAP-test based Cervical Cancer Screening National Guidelines and to discuss future steps forward to increase the accessibility to the screening services in the regions of Georgia, summed up the results of the cervical cancer screening project, which was implemented by National Screening Center.
The First Lady of Georgia, Sandra Elisabeth Roelofs, who is a Chairperson of the National Screening Centre and President of the European Cervical Cancer Association, stressed the importance of taking preventative measures to fight cervical cancer. "It has been clearly established that population-based, organized cervical cancer screening programmes can prevent up to 80 percent of cases. In addition, we now have two vaccines that are highly effective in preventing infection with the two most common carcinogenic types of HPV," she noted.
Assistant Representative at UNFPA Georgia, Lela Bakradze said cervical cancer is the second most common form of cancer after breast cancer in terms of disease and mortality rates. "Therefore, since 2008, UNFPA in cooperation with the Tbilisi Municipality implements free of charge cervical cancer screening programme for Tbilisi residents of the age group 25-60. This successful programme made a high quality service accessible for the representatives of the target group," she noted "It is crucial to make the cervical cancer screening available in the regions as well in order to prevent morbidity and early mortality in women and improve reproductive health status. This is exactly the field we are trying to direct our efforts now," Bakradze added.