Georgian PM stresses benefit of 'new economic course'
By Salome Modebadze
Thursday, January 27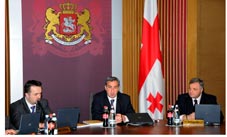 Prime Minister of Georgia Nika Gilauri shared the main issues of discussion to the media before the Government Session on January 26. Summarizing the recent achievements of the Governmental policy, Gilauri welcomed the establishment of the Economical Zone of Registration in different Georgian cities and stressed the advantages of the new Tax Code. The new tax code came into force from January 1 this year and obliged the PM to name a Business ombudsman.
Stressing that the ombudsman would be actively engaged in the system and protect the rights of the private sector, Gilauri spoke of the obligations and authority of the ombudsman's institute which would fully deal with any possible gaps within the code. "Practice will show the gaps – they can't be foreseen," Gilauri said stressing he would name the ombudsman in a couple of days.
The PM asked the private sector representatives to address the Government with their suggestions and planned to meet them in order to better realize all their needs. Introducing the details of the "new economical course", Gilauri explained the necessity of transparent cooperation between the Government and the private sector and promised that "the new course was not simply words" but be an expression of the state's support towards investors and businessmen.
Massive problems for global society as a whole, like inflation, remained among the burning issues for the Government but the Minister of Economy and Sustainable Development Vera Kobalia said the rate of inflation would decrease in our country. Encouraging the Georgian population to keep calm and avoid panicking, Kobalia explained that the Government has been intensively working on the issue so that the problem with plural-food stuffs doesn't threaten them.
Introducing the new Governmental projects, Kobalia shared the details of negotiations with international companies. Georgia will buy around 1000 electro mobile cars in the frames of the project "Green Georgia" this year. The arrival of investors to our country will create additional jobs and decrease the number of unemployed; moreover the Georgian Government has been working on a five-year project to obtain the right of constructing cars in Georgia. The Ministry of Economy also plans to start production of computers on the local market.
The situation regarding healthcare has suddenly worsened in our country. The Ministry of Labour, Health and Social Affairs used to insist that there was no danger of pandemics but, as the Minister Andrea Urushadze said before the session, the number of people infected with H1N1 has exceeded 70. Highlighting the fact that the ambulance services have been available to everyone, Urushadze advised people to attend hospitals if needed, while the treatment of each person infected with H1N1 will be financed from the state budget.