Change in Utilities Bills
By Messenger Staff
Tuesday, February 8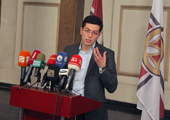 Tbilisi residents will have to pay three communal taxes - power, water and refuse service, with new bills. A consolidated utilities payment system came into force yesterday.
Telasi – the electricity distribution company says subscribers' power supply will be cut off if they do not pay any of the three taxes, according to the edict issued by Georgia's Energy and Water Supply Regulatory Commission. Payments will be controlled by electricity suppliers Telasi and EnergoPro Georgia. The subscribers will be allowed to cover the tax arrears during the next 36 months. The consolidated utilities payment does not include gas bills.
Telasi and Energo-Pro Georgia have been determined as administrators of public utilities payments and the collection of public utilities payments from the population will be carried out by these electricity distribution companies.
This new payment system was ciritcised by the Christian Democrat Movement who filed a claim in the Constitutional court of Georgia demanding the decision be annulled. "According to existing procedures the court has the right to discuss our case within the next 9 months, however we demand that our case be discussed as soon as possible because peoples' living conditions during these 9 months will become even harder," Inga Grigolia CDM member of Tbilisi City Council stated yesterday.
Another CDM representaive and member of the Tbilisi City Council, Zaza Gabunia said this new payment system may return Tbilisi into darkness because of the hard social conditions of the population.
"We are going to appeal to the Energo ombudsman with the thousands of complaints by people," Gabunia said.