Business ombudsman classifies main problems
By Ernest Petrosyan
Friday, February 11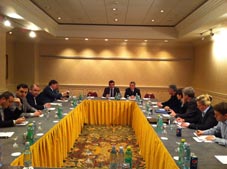 The recently appointed business ombudsman Giorgi Pertaia held his first meeting with Georgian businessmen and commerce related persons at Hotel Tbilisi Marriott on February 9. The sides discussed the future plans and cooperation within the working group, as well as a wide range of business related issues including the TAX code, production losses and inventory.
"We have discussed the range of existing problems, and our main goal for this time is to classify all these problems. We agreed on plans of future cooperation and how the working group completed with experts of major audit companies will work," stated Pertaia. He also added that he will discuss the problems with the Prime Minister, Finance Minister and other ministers depending on the subject matter.
He also noted that the main problem for businessmen is the relations with taxation offices. "We will pay attention to the business administration: how the check is performed, are the reactions right and other questions". The main thing is that the check of the company is performed properly. Some steps were taken in this direction. Nevertheless business circles are not satisfied. The main problem is that the tax inspections do not investigate the case properly. They are asking improper questions and afterwards this may become a subject for legal action.
"We will meet at least once a month with business associations to discuss any business related issue. Businessmen will have the 24 hour communication access to business ombudsman. We have discussed the problems in business, and the majority of problems refer to the TAX code, which should be improved in cooperation auditors and other analysts involved in working group", stated the Vice President of Georgian Businessmen Association Giorgi Isakadze