New Ideas for National Security
By Gvantsa Gabekhadze
Wednesday, February 16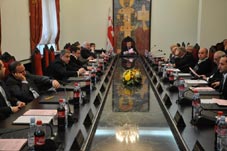 The primary outline for national security is already complete - Deputy Security Secretary, Batu Kutelia stated yesterday after the meeting with the Chair of Parliament, Davit Bakradze and other MPs on February. 15. The process of renewing the security conception, monitoring operations from the Parliament's side will be significant.
"The changes that will be reflected in the document will first be discussed within the Parliamentary committees. It is important that the traditional setting of Parliament is observed during the adoption of such documents. Different political forces will participate in the process," stated the Security Secretary, Giga Bokeria.
Deputy Security Secretary, Batu Kutelia, stated, "The main aim of the document is to specify the priorities necessary for the neutralisation of the threats the country is currently facing. Those threats are the occupation of Georgian territories, the Russian factor, regional and global challenges and any kind of destabilisation near the Georgian borders, the North Caucasus among them." Kutelia mentioned there are several ways of neutralising the threats, "A combination of several methods can be used to neutralise the threats: national resources, international resources and bilateral and multilateral measures to neutralise potential and current dangers." According to the deputy Security Secretary, the main aim of the meeting was to discuss the priorities and how the public can be involved in the issue.
Opposition MPs have already delivered their ideas to the Security Secretary. For example, MP Paata Davitaia calls upon MPs to grant Russia the status of enemy in the new security document.
Giorgi Targamadze, the leader of the Christian Democratic Party approved the invitation and said he was prepared to take part in the consultations. MP Gia Tortladze called upon the speaker to allow MPs who were not members of the minority to also join the consultations, "The document must reflect the threats Georgia is facing at the present moment. Firstly, the main threat to Georgia is the occupying country and the occupied regions of Georgia, where the deployment of additional military forces is ongoing," Davitaia, said.
Military analyst, Irakli Sesiashvili has his own opinion of the new security proposals, "According to the new document our strategic partners are the United States, Turkey, Ukraine, and Azerbaijan. If I am not mistaken, that's all… while Yushenko, Ukraine was our strong strategic partner, however reality has changed." The analyst said that the security document is based on the strategy adopted by the Reintegration Ministry regarding the occupied regions, "which is not enough, to my mind, the conception is just like a visit card, each foreigner, who is familiar with the document, will not start searching for another document." Sesiashvili states that Russia is still considered as the main threat; however it must be named as the main threat against the country and not just against the current authorities.