Private-public Partnerships and Community Service
By Salome Modebadze
Wednesday, February 16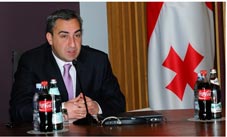 During yesterday's Government session, the Georgian Prime Minister, Nika Gilauri introduced the idea of creating a new fund. Welcoming the stable and intense cooperation between the private and public sectors Gilauri mentioned that the Government will try to carry out several serious investment projects. Gilauri said that they have been working with their Azeri colleagues on oil processing and establishing an agricultural logistics centre, stressing such cooperation would be an important step for Georgia's economical development.
"It is very difficult for the private sector to carry out such huge projects without state support. That's why we will create a partnership fund which will make it easier to carry out joint projects for agricultural benefit and energy security," reported the PM saying that a detailed presentation of the initiative will follow within a few days. Private sector representatives will create a council for the fund so that cooperation between the two sectors for the projects mentioned will be unanimous.
Energy Minister, Alexander Khetaguri told the media that Hungary has joined the Azerbaijan-Georgia-Romania liquid gas transportation project. The Minister explained that as soon as the partners make the money available for building the gas terminal through "public partnership" the transit of Azeri gas will increase in Georgia. This will affect Georgia's transit resources as well as create jobs helping to solve some unemployment problems.
Another interesting initiative discussed by the Government concerns creating of a community service alternative to imprisonment. The Minister of Correction and Legal Assistance, Khatuna Kalmakhelidze said that the necessary changes and additional articles will soon be made to the criminal code and the law on probation. Kalmakhelidze explained that the Government has started working on establishing appropriate mechanisms to ensure the sustainability of the project. "We have already looked at plans to carry out the idea in our country effectively. It will be one of the greatest reforms and will prevent people from having to serve jail sentences," the Minister stated.
The courts will determine the required number of hours of public work while the National Probation Agency will decide the type of community service for each individual case and monitor its implementation. Deputy Minister of Justice Giorgi Vashadze noted that community service will support the psychological recovery of convicts and their re-integration into society. It will encourage the convict to better realise their mistakes and restart a normal social lifestyle. People having committed minor crimes will serve at the local self-governing bodies at the initial stage but later move to other areas.