Special week in Parliament starts Monday
By Gvantsa Gabekhadze
Wednesday, March 16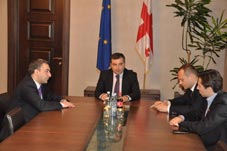 Following yesterday's meeting between the Chair of Parliament, Davit Bakradze and Prime Minister, Nika Gilauri a statement was issued that all ministers other than law enforcers will make presentations to Parliament as part of a special week planned to start next Monday.
"Political debate between the opposition and majority is very important. Debates will begin on March 22, with my speech and will continue with ministers of the economic block (Minister of Economy and Sustainable Development –Vera Kobalia and Minister of Finance – Kakha Baindurashvili). Then, after the Prime Minister's speech, the Minister of Health, Labour and Social Affairs – Andria Urishadze; Minister of Energy – Aleksandre Khetaguri; Minister of Agriculture – Bakur Kvezereli; Minister of Internally Displaced Persons from the Occupied Territories, Accommodation and Refugees of Georgia – Koba Subeliani; Minister of Regional Development and Infrastructure – Ramaz Nikolaishvili, Minister of Education and Science – Dimitri Shashkin will address Parliament on March 23-24). The final meeting will be held on March 25, and I will once again attend Parliament for debates and a question and answer session," Gilauri stated. He added that the ministers are ready to respond to every question – "We have very real plans and very concrete decisions will be fully made on all the problematic issues the Georgian public is interested in."
Bakradze called the format "unprecedented", saying it was a very good decision which will enable both majority and minority representatives to discuss problematic issues and work on finding solutions.
Majority representative, Petre Tsiskarishvili explained why law enforcers will not participate in the special week, "Economic and social themes, together with IDP matters are the issues society is most interested in. Practically there is no time to move on to law enforcement structures. In addition we consider that concentrating on social-economic issues will be more productive."
Parliamentary minority, the Christian-Democrats will ask questions on economic issues and inflation, "Despite some new initiatives of the authorities, the Georgian economy is in a critical situation. The amount of investment has fallen and we are currently only hearing lies from the Government. We are interested in why the authorities cannot even make a 1-2 months forecast regarding the economic situation in the country," commented Giorgi Targamadze, leader of the Christian Democratic Movement.
Fellow opposition representative, Jondi Baghaturia wants to see the Interior Minister, Vano Merabishvili in Parliament, "We have questions for the law enforcers; one of the main ones is why incidences of assaults on journalists are not investigated."
According to some Georgian analysts such debates are important, as "the ministers must feel accountability toward the society. If there is no such feeling nothing will emerge," commented Demur Giorkhelidze. Analyst Nodar Khaduri is mostly interested in agricultural issues, as, based on him, the authorities' economic policy is very inconsistent, especially regarding agriculture.