Russia joining WTO bypassing Georgia – possible but unlikely
By Mzia Kupunia
WEdnesday, March 16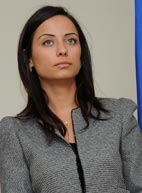 According to the World Trade Organisation regulations Russia's WTO accession without Georgia's approval is possible; however it is "very unlikely". This was the response of the Georgian authorities to the Russian Foreign Minister's statements that if Georgia persists in being stubborn in Russia-Georgian WTO talks, Russia will join the organisation without Georgia's agreement. "According to the WTO rules, Russia could enter WTO without the approval of any country, including Georgia, however such a precedent has never happened before," Georgian Minister of Economy and Sustainable Development, Vera Kobalia said on Tuesday, adding "this issue should be discussed through formal negotiations, the US administration also thinks that this is the only way [of solving the issue]."
Georgia and Russia started WTO negotiations on March 9 in Bern, Switzerland. Officials in Tbilisi said that Moscow is responsible for the initiative to launch talks. No details of the first round of talks have been made public. The sides only revealed that the next round of talks between Tbilisi and Moscow will be held in April. In exchange for agreeing to Russia's WTO accession, Georgia is demanding the deployment of Georgian border guards at the border crossings at Psou and the Roki Tunnel in the breakaway regions of Abkhazia and South Ossetia.
Speaking to journalists on March 13, Russian Foreign Minister, Sergey Lavrov warned that the possibility exists for Russia joining WTO without Georgia's consent. He said that Georgia's demand for controlling the border crossings in Abkhazia and South Ossetia "has nothing to do with Russia's WTO accession." "This way has no prospects," Lavrov stated, adding that the US and the EU are interested in Russia's "quick accession" to the WTO. "This is because our Western partners understand very well that everyone will benefit from it, including Russia. We have told them that if they are genuinely interested in this, they should convince Tbilisi not to prevent Russia from joining the organisation," Lavrov said.
Authorities in Tbilisi downplayed Lavrov's statements saying while there is a theoretical possibility of Russia joining the WTO without Georgia's approval, the "chances are very slim". "I would be very surprised if this precedent would be allowed by the WTO. It will be a very rare exception and a very surprising one," Georgian Deputy Foreign Minister, Nino Kalandadze said on Monday. She refrained from discussing the Bern negotiations, saying that it is "premature" to talk about any details. Kalandadze told journalists that the meeting aimed to "bring the positions of both sides closer". "We do not demand anything special and will not turn the negotiations on Russia's WTO accession into a subject for political bargaining," the Deputy Minister said.
Meanwhile the Georgian Foreign Minister, Grigol Vashadze accused his Russian counterpart of breaching the agreement on not revealing the details of the Russian-Georgian talks on WTO accession. He said both delegations agreed in Bern not to comment to the press on the issue. Georgia's top diplomat noted Lavrov violated the agreement by making comments a couple of days later "threatening Georgia with his preconditions." "I want to announce that sadly the head of Russian diplomacy, Mr. Lavrov violated the agreement within a few days. This is usual with Russian diplomacy. So you can judge for yourselves what kind of attitude Russia has towards the agreements reached," Vashadze noted.
A WTO member since June 2000, Georgia has the right to veto the entry of any new member to the organisation; meanwhile Russia has been trying to join since 1993.