Opposition leader in Belgium to discuss election reform struggle
By Gvantsa Gabekhadze
Tuesday, March 29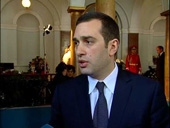 Irakli Alasania, the leader of Our Georgia-Free Democrats (OGFD) opposition party, met with U.S. Assistant Secretary of State for European and Eurasian Affairs, Philip H. Gordon, while at the Brussels Forum on March 27. The main theme of the meeting was election reform in Georgia and recent developments in this direction.
"Issues such as the country's constitution and election code will be more acceptable when they are legitimated by the international community. We are sure that the Georgian authorities also agree with this and they will carry out the process, which will be transparent and free. A democratic election code would have to be like this," Gordon stated.
As Alasania said, the American side is interested in the negotiating process between the authorities and opposition being accomplished with concrete results, "if there is no agreement regarding the issue with the sides the elections will not be democratic; it will have no legitimacy neither from inner forces nor from international community, Based on this, the main aim of the United States is to bring the process to concrete outcomes."
According to Alasania's press office in Brussels, the OGFD leader had an opportunity to discuss the same issue with EU's foreign policy chief Catherine Ashton and German deputy foreign minister Werner Hoyer, as well as with U.S. senators Jeanne Shaheen and Mark Warner.
While Alasania was engaged with discussing the issue with foreign officials, the rest of the oppositional representatives involved in the process held a meeting with NGOs and discussed methods of putting pressure on the authorities to get the desired result from the process, "Georgian society should be more active and more involved in the issue, to make the authorities concede in this field, "Zviad Dzidziguri, Leader of Conservative Party, said. "Our problem concerning the election reform should become the problem of the entire Georgian society, it is our aim, " Davit Gamkrelidze, leader of New Rights, said.
As for the authorities, they claim that the opposition is using ultimatums and blackmail, which is unacceptable during the negotiation process, "they state that if we do not agree to their suggestions, straining of the situation in the country is possible. At the same time, their suggestions have no foundation or substance. They suggest that there will not be majoritarian deputes to the parliament and have no reasons as to why this change should be made"
As analyst Gia Khukhashvili told
The Messenger
, "There is no sign from the authorities that they are interested in improving the election environment in the country. Both the authorities and opposition are distrusted by the Georgian people. When the opposition is talking of society's active involvement in the issue, how will this happen, when people do not trust them? However, I hope that one day the opposition will manage to restore public trust, as Georgia is a country of fast changes. It is very possible that the situation could change very quickly if society finds a trustworthy candidate. I think that there is no point in more negotiations on the issue."