Georgia for Japan: Silent Auction Relief Fundraising Event
Wednesday, April 20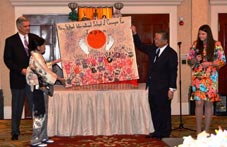 On March 11 at 2:46pm JST, a massive 9.0-magnitude earthquake occurred near the northeastern coast of Japan, creating destructive tsunami waves which hit Japan just minutes after the earthquake. The earthquake and tsunami caused severe destruction; tens of thousands people confirmed dead, injured or missing and millions more affected by lack of electricity, water and transportation in addition to the ensuing nuclear crisis. In an effort to support disaster relief efforts,
"Georgia for Japan"
silent auction was held on 14 April at one of the hotels in Tbilisi. Mrs. Junko Kamohara, wife of Masayoshi Kamohara, Ambassador of Japan to Georgia, generously donated her personal collection of rare and beautiful Japanese art to raise funds to help those affected by the March 11 tragedy in Japan. The event committee of Michele Dunn, Sarah Williamson-Chirakadze, Charlotte Emborg, Betsy Haskell, Nana Keinishvili, Fumi Marata and Teona Natsvlishvili worked diligently with Mrs. Kamohara to create an elegant event for the Georgian community to come together and raise funds for Japan in a quiet, respectful manner.
As honorary hostess, Sandra E. Roelofs, First Lady of Georgia, was very supportive to Mrs. Kamohara and the fundraising effort. Neil Dunn, BP Georgia General Manager, emceed the well attended event. Carli Chirakadze, student representative from New School, presented Ambassador and Mrs. Kamohara "Prayers for Japan" book and "Hands for Japan" flag created by New School students. Guests included individuals and businesses from all sectors of the Georgian community including UGT, LASARE Ltd., SKY Gate, SoCAR, TBC Bank, BP, BOT, Catru Group, Chateaux Mukrani Winery; the diplomatic sector was also well represented and supportive to Georgia for Japan silent auction benefit.
A total of 75 silent auction items received serious attention and generous bidding, including traditional Japanese dolls; unique lacquer ware, elegant Japanese porcelain and fans, traditional obis and Oribe Yaki Sencha set (Japanese ceremonial green tea set). Art from Northeastern Japan – Akita prefecture, Aomori prefecture and Sendai, Miyagi prefecture - the area of the March 11 earthquake and tsunami, was highlighted and included in the silent auction. Additionally, Japanese calligraphy (shodo) a form of artistic writing of the Japanese language from artist Jyouusui Hagihara, received much interest from the guests.
Preliminary amount of funds raised from the silent auction is approximately 65,000GEL.
Parnas Cafe, Lounge and Restaurant donated 30% of all food and beverage sales for April 14 to Georgia for Japan. Mrs. Kamohara provided complimentary sushi rolls with guests' orders as a gesture of appreciation.
All funds raised will be distributed among those affected by the earthquake and tsunami through the Japanese Red Cross Society. With assistance of TBC Bank and Georgia Red Cross Society, a dedicated account for Georgia for Japan, will accept monetary donations from April 11 – 21; after, a final amount of donations will be calculated and 100% will transfer to Japanese Red Cross Society.
Donations are accepted at all TBC Bank Service Centers. Bank Code: TBCBGE 22
Name of Beneficiary: Georgia Red Cross Society
Account: GE34 TB74 0673 6080 1000 02 (GEL) and GE51 TB74 0673 6180 1000 03 (USD)(EUR)