Gordon on NATO-Georgia ties
By Mzia Kupunia
Wednesday, April 20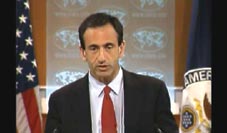 NATO Foreign Ministers reaffirmed their commitment to supporting Georgia's Euro-Atlantic aspirations and continue to stand by the process of strengthening Georgia's candidacy for Euro-Atlantic institutions, US Assistant Secretary of State, Philip Gordon said on April 18 when addressing NATO's Berlin Ministerial. "We are working with Georgia on its annual national plan and other mechanisms that make Georgia a stronger candidate," he noted "and they also expressed appreciation for Georgia's contribution to the ISAF mission," he added.
Philip Gordon said the NATO-Georgia Commission had met and the allies expressed support for Georgian territorial integrity and sovereignty, while in the NATO-Ukraine Commission, allies affirmed the NATO-Ukraine partnership, encouraged further economic and democratic reforms, and welcomed Ukrainian contributions to NATO operations. "And then finally, in the NATO-Russia Council, as in the bilateral meeting with Foreign Minister Lavrov, the Secretary had an opportunity to discuss Libya, NATO-Russia missile defense cooperation, and the future of conventional arms control in Europe," Gordon noted.
At the NATO Ministerial held in the German capital on 14-15 April, the Alliance Foreign Ministers hailed Georgia's "strong performance" in defence reform and hailed the country's contribution to ISAF program. NATO Secretary General Anders Fogh Rasmussen said in his opening remarks at the Georgia-NATO Commission meeting that the relationship between the Alliance and Georgia has "deepened significantly" in recent years.
Meanwhile the US Secretary of State, Hilary Clinton expressed Washington's solidarity with Georgia in relation with "Russia's recent activities." Speaking at the meeting with the alliance authorities and the Georgian officials in the German capital, Clinton said "US support for Georgia's sovereignty and territorial integrity remains steadfast." "We share Georgian concerns regarding recent Russian activities that can negatively affect regional stability," information agency AFP quoted her as saying. Clinton called on the Georgian government to carry out more reforms to enhance democracy in the country." There is no more important objective than building upon the democratic gains made thus far," the US Secretary of State said.