Okruashvili's anti-American statement causes outrage
By Gvantsa Gabekhadze
Friday, May 13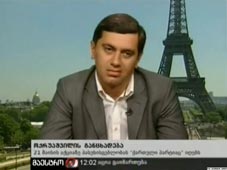 'The United States is burying democracy in Georgia' - one of the leaders of Georgian party, former Defense Minister, Irakli Okruashvili stated in his interview with Maestro TV, on May 10. As he has mentioned the Georgian Party would hold a rally at the US embassy in Tbilisi on May 16 to object to US activities in Georgia.
"The goal of the rally is to reach and close the tap and stop the flow which poisons our society. This place is the US embassy in Dighomi, Tbilisi. If Russians are taking away our territories, Americans deprive us off our freedom, and we'll never be able to use our territories properly, unless we are free," Okruashvili said.
The opposition party leader, who currently resides in France, also threatened the people, who support Georgia's government, "Those who stand on that side, you are given one more chance to serve your people, but if you are going to follow Saakashvili`s regime to the end, I promise you, we'll treat you with no mercy."
Okruashvili's statement was echoed by the Georgian party's another leaders in Georgia on May 11, "We believe, that Russia has seized our territories, but by this support to Saakashvili, the U.S. administration is seizing our freedom, our sovereign right of free choice in our internal or other type of political affairs," Erosi Kintsmarishvili, said.
Some of the oppositional parties compared the Georgian party's statements and actions to the Taliban's activities, "making such statements and in general, holding of street rallies and demonstrations seems more similar to the Taliban's activities, which would be bad for our country, "leader of Christian Democratic Movement, Giorgi Targamadze, said.
"Unfortunately Russian special services managed to buy certain opposition forces in Georgia at a wholesale price, "member of National Democrats, Bachuki Kardava, mentioned.
The statements have also been negatively assessed by non parliamentary opposition parties; however some of them have managed to see something positive in the process, "it is very nice when political parties become sincere and openly state on their political orientation, this process enables society to differentiate who stands behind some political parties, "one of the leaders of Republican Party, Tina Khidasheli, mentioned. Representative of our Georgia-Free Democrats, Viktor Dolidze, compared members of the Georgian Party to Mikheil Saakashvili, ", Irakli Okruashvili and Erosi Kintsmarishvili, like Mikheil Saakashvili are the politicians of the past, who can't do anything positive for the country."
Not so radical were the Labour Party's leader, Shalva Natelashvili's comments on the issue, "currently, I can't see anything but simple debate, if they do what they say (meaning changing the current authorities), we would be the first to applaud them".
There were also those among non parliamentary opposition, for whom Okruashvili's statements became such unbelievable that they had appealed his party representatives in Georgia to confirm them, "they were absolutely irresponsible statements. If the Georgian party confirms those statements and its course regarding an attempt at a bloody revolution in Georgia, it would be a serious watershed between us and the Georgian party, "member of New Rights, Mamuka Katsitadze, stated.
While most of the opposition parties have seen Russian influence in the statements, Nino Burjanadze, Leader of Democratic Movement-United Georgia and active member of Representative Public Assembly, had a different take on the matter, "it has been revealed by these statements that the Georgian Party is playing Mikheil Saakashvili's game , which is aimed to bring misunderstanding and hopelessness to society. It is the most serious part of Saakashvili's fight against the Representative Public Assembly."
The Majority representatives also responded to the issue, "Those statements confirm that the Georgian Party is being ruled by the Russian Authorities, and its main aim is to minimalise western interests in Georgia to widen its influence in the area, "MP, Nugzar Tsiklauri, said.