Rasmussen on NATO-Russia "disagreements" over Georgia
By Mzia Kupunia
Friday, May 13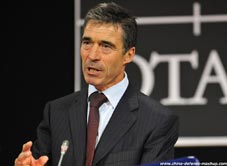 Speaking about NATO-Russia relations at Chicago University on May 11, NATO Secretary General Anders Fogh Rasmussen reiterated the support of the North Atlantic Treaty Organisation towards Georgia's sovereignty and territorial integrity. Rasmussen noted NATO has a "great opportunity" to build security not only in Europe, but across the entire Euro-Atlantic area "as NATO and Russia set aside old differences to work more closely together." "Terrorism, nuclear proliferation, cyber crime and piracy are just some of the new global threats that now affect all our nations," he noted.
NATO Secretary General said that a "solid" NATO-Russia partnership will need "much more than a solemn pledge by political leaders," adding that it will require "genuine and sustained political will and pragmatism on all sides." Rasmussen said the sides "still have disagreements of principle issues such as Georgia." "NATO insists on full respect for Georgia's sovereignty and territorial integrity, and we call on Russia to live up to her international obligations in that respect," NATO Secretary General stated "We must not shy away from discussing these disagreements. But we must not allow these differences to paralyze our partnership," he added.
Visiting a Dobbins Air Reserve Base in the US state of Georgia, Rasmussen spoke about Georgia's contribution to the ISAF peacekeeping mission in Afghanistan. "He praised the efforts of the troops stationed there and the ability of soldiers from different countries to fight side by side in exceedingly difficult circumstances," globalatlanta.com reports "He specifically referred to troops from the state of Georgia fighting alongside troops from the Republic of Georgia, as well as with Poles, Canadians and others."
Earlier in April NATO Foreign Ministers reaffirmed their commitment to supporting Georgia's Euro-Atlantic aspirations, US Assistant Secretary of State, Philip Gordon said when addressing NATO's Berlin Ministerial. He said that the Alliance "continues to stand by" the process of "strengthening" Georgia's candidacy for the Euro-Atlantic institutions. At the same event, the US Secretary of State, Hilary Clinton expressed Washington's solidarity with Georgia in relation with Russia's "recent activities," apparently referring to the shootout in Gali region in April. "US support for Georgia's sovereignty and territorial integrity remains steadfast," she stated "We share Georgian concerns regarding recent Russian activities that can negatively affect regional stability," she added.