TeliaSonera unifies under new unique brand identity
Friday, May 20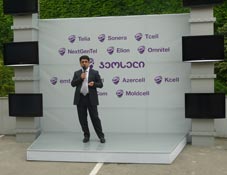 TeliaSonera took an important step in uniting the company by launching a new common brand identity.
As it is known GSM mobile provider GEOCELL became a part of TeliaSonera group two years ago. General Manager of GEOCELL Osman Turan held a press conference on the issue.
From May 12 TeliaSonera's 18 main brands will be united under an attractive common brand identity.
TeliaSonera unites the brands representing mobile operators in Kazakhstan, Azerbaijan, Georgia, Moldova, Tajikistan, Uzbekistan, Nepal as well as Russia, Turkey and Afghanistan and also in Norway, Sweden, Finland, Estonia and Lithuania.
TeliaSonera gives different advantages to its clients world wild, price reductions and different benefits.
Today GEOCELL is a leading GSM provider in Georgia.