Tbilisi slams Putin over Abkhazia visit
By Mzia Kupunia
Monday, June 6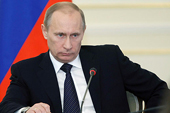 Tbilisi has accused Russian Prime Minister Vladimir Putin of violating Georgian state borders by entering Abkhazia to attend the funeral of the de facto Abkhazian President Sergey Baghapsh on June 2. In a special statement issued the following day the Georgian Foreign Ministry said the Kremlin is "persistently trying to create an illusion of legitimacy to the occupational regime."
Moscow is trying to "establish ethnic cleansing, military occupation of a sovereign state and a violent change of existing borders as an instrument of international relations," the statement posted on the Georgian Foreign Ministry official's website reads.
Visiting Georgia's breakaway region of Abkhazia last week to attend the de facto President's funeral, the Russian Prime Minister met the de facto Abkhazian PM Sergey Shamba. Putin told Shamba that Sukhumi can "count on" Moscow. "You are aware, that in the nearest future we will allocate relevant resources, above 10 billion roubles. We are ready not only to realize all existing plans in frames of this funding, but we are also ready to look at the possibilities of other large-scale projects," the Russian Prime Minister told de facto officials in Sukhumi.
Commenting on Putin's statements, the Georgian Foreign Ministry said the Russian Prime Minister "should understand well that all these attempts [to legitimize occupation] are predestined for failure." Neither Georgia, nor the international community will accept the so called new reality created through "rough violation" of international legislation norms and principles, the Ministry said in its statement.
In a separate statement issued on June 3 the Georgian Foreign Ministry said that the Georgian law enforcers had thwarted "yet another attempt" of a terrorist act by arresting two residents of Gali region – Abesalom Chkhetia and Tamila Benia, who reportedly had explosive materials equal to 4kgs of TNT. According to the Interior Ministry, the detainees have said in their testimony that the representatives of Russian special agencies – Igor Vlasov and Sergey Kuzmin, currently living in Abkhazia.
"This fact is a continuation of Russian-organized terrorist acts on Georgian territory and continuation of such attempts," Georgian Foreign Ministry said "Georgian law enforcers have presented convincing proofs that Russia and its special agencies are not only sponsors of terrorism, but they are directly planning and organizing terrorist acts on the territory of a sovereign state," it continues.
Moscow has downplayed Tbilisi's claims, saying that Georgia's accusation of Russia organizing terrorist acts on the Georgian territory is Tbilisi's attempt to "get away from the real problems" with its neighbours. "We have a feeling that the Georgian side is continuing its irresponsible line of inflating spymania ," deputy Foreign Minister of Russia, Grigory Karasin told Interfax news agency on Saturday "It is a pity that instead of real problems, which exist between Georgia and its neighbours, Tbilisi carries on its course of provoking aggravation [of relations]," he added.