Georgian-Danish Professor and Researcher in the Field of Nanomedicine
By Natalie Kereselidze
Tuesday, July 5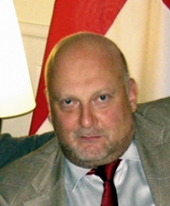 A researcher in pre-clinical and transnational biomedicine, George 'Gogi' Gegelashvili studies brain diseases and searches for new substances that interfere with and/or affect pathological mechanisms in the brain. To be even more specific, his research is focused on the proteins that carry amino acids in and out of the nerve cells, as well as genetic mechanisms of production of these proteins.
Throughout his research Dr. Gegelashvili, or GG as he likes to refer to himself, has discovered a new form of "cross-talk" between nerve cells and surrounding cells of a different type, called
Glial Cells
. To get a better understanding of what this really encounters, GG offers his own definition:
Nerve cells, upon their stimulation, release a number of substances that act on neighboring glial cells. In these target glial cells the released substances trigger various signals, that through a complex pathway, activate several genes and, as a result, stimulate the production of those proteins that can carry amino acids back to nerve cells. These substances or their analogues are candidates for new drugs with capabilities to recover functions of nerve cells in some pathological conditions.
Before moving to Denmark for his research in 1990, GG completed a MS.c. in Biochemistry and Biology at Tbilisi State University in 1981. His Master's Thesis was titled:
"Learning Task Performance and Neurochemical Alterations in Rats Following Intraventricular Administration of S100 Protein or Anti-S100 Antiserum"
. In 1987 he was awarded his PhD Degree in, again, Biochemistry by Palladin Institute of Biochemistry in Kiev, Ukraine, and the Supreme Certification Commission of Ministers of USSR, Moscow. GG's PhD Thesis was titled:
"Cell - free model for neurosecretion"
.
Dr. Gegelashvili has had double citizenship since 2004. As of now, he is settled in the capital city of Denmark – Copenhagen, but nevertheless has frequent visits to Georgia to give lectures at Ilia State University in Tbilisi. His professional activities do not end here though. GG consistently travels to multiple other countries around the globe for either congress meetings, research related visits, or orally held presentations at various universities. Just to name a few, these countries include: Japan, The United States, Canada, Argentina, Chile, Mexico, St. Lucia, Ireland, Finland, Spain, Italy, Poland, Portugal, Austria, Germany, Czecho-Slovakia (as of now The Czech Republic and Slovakia) and Bulgaria. Furthermore, it is most flattering to note that only 0.4 to 6 % of participants of international scientific meetings are invited to give an oral presentation or a lecture, which Dr. Gegelashvili is proudly a part of.
Other than teaching and supervising, GG is an author of over 90 publications that are cited more than 1300 times. He is currently Head of Section at the Transporter Pharmacology and a Research Professor, as well as Senior Advisor at two pharmaceutical companies in Denmark. Added to this, he holds the title of – Professor of Molecular Biology and Molecular Biochemistry – granted by both Ilia State University in Tbilisi and Roskilde University in Denmark.
Lastly, George Gegelashvili is a dedicated follower and promoter of the principles of eco-life and the Slow Food movement. He practically never uses motor vehicles, is a rare passenger of public transportation, but often bikes. However, his basic mode of transportation is walking. GG loves art, literature, history, cinema, football and basketball. He collects rare French, Italian and Spanish art house movies of the 50s, 60s and 70s and exclusively listens to The Beatles, Rolling Stones, Pink Floyd, Nirvana, Black Sabbath, selected retro and modern pop, where he exceptionally recognizes the English-Georgian singer and song writer – Katie Melua.