Georgian authorities deny reports on paying for CNN series
By Messenger Staff
Wednesday, July 6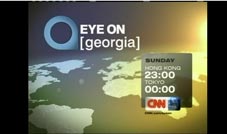 Georgian National Investment Agency Invest in Georgia paid for Eye on Georgia - CNN's series of reports on Georgia aired by the CNN network from June 27-July 1, Chairman of Transparency International Georgia, Mark Mullen told
Interpressnews
agency. In his interview, published on July 5, Mullen told the news agency journalist, Malkhaz Chkadua, that the project, widely covered by the Georgian media outlets, was a "commercial project."
Mullen said he has information that Invest in Georgia paid for the Eye on Georgia series. "And this is normal," he noted, adding that CNN representatives had been saying that they were preparing the reports in cooperation with Invest in Georgia agency. Mullen noted, he has no information about the amount of money paid for the series, however said that it was probably not a "small amount of money". He reiterated that the Georgian side really paid for it.
TI Georgia Chair told Interpressnews that the reports aired in Eye on Georgia were not investigative journalist pieces. According to Mullen, the reports were aimed at providing information about Georgia to potential investors. He noted that these kinds of programmes are not designed to provide details of Georgia's current political processes, as far as the foreigners, who do not know much about Georgia are not interested in the details of Georgian politics. Mullen suggested that covering Georgia's inner problems is up to the Georgian media outlets.
TI Georgia Chairman's remarks were followed by the statement of the Georgian Minister of Culture, Nika Rurua. The Minister denied reports that the Georgian side had paid USD 4 million for CNN series about Georgia, calling the information a "total absurd". "It is not worth wasting time on such fantasies. CNN is not a hired organization and the reports broadcast there was not a self promotion. Facts speak for themselves," the Georgian Minister noted "Everyone is interested to find out about the recipe of the reforms and the success which Georgia carried out. This is what triggered CNN's interest," Rurua told reporters.