One person dies in an accidental shooting incident at South Ossetian administrative border
By Messenger Staff
Thursday, July 14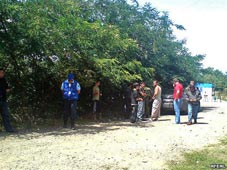 The Georgian Foreign Ministry has officially confirmed that a 25 year old resident of the village of Knolevi, Kareli region died as a result of an accidental shooting at the Georgian checkpoint. The incident happened on July 11, however Georgian officials had been denying reports about the shooting until now.
The village of Knolevi is located at the administrative border with the de facto South Ossetia. Earlier, on July 11 the governor of the village of Knolevi Gia Gelashvili told reporters that the shooting happened in the village of Znauri, currently under the control of the de facto South Ossetian authorities. Gelashvili said that the shooting lasted for some time. However the Knolevi village residents had insisted that they heard only one shot from the Georgian checkpoint.
On Wednesday, the Georgian Interior Ministry said that one of the officers deployed on the Georgian checkpoint at the administrative border with Tskhinvali region accidentally shot bullet, which killed a 25-year-old Nino Koberidze. According to the residents of the village Koberidze was at a local shop with some of her neighbours when the bullet hit her. Wounded Koberidze was taken to Gori hospital; however doctors were unable to save her.
The Georgian law enforcers have said that the officer who accidentally shot Nino Koberidze has been detained and charged with culpable homicide. The detained officer might face up to 15 years in prison.
On Thursday the EU Monitoring Mission in Georgia issued a statement on Knolevi shooting incident, expressing regret over the death of a 25-year-old woman. "While the details of the incident remain unclear, and are subjects of further investigation by the Georgian police authorities, the Georgian Ministry of the Interior has informed the mission that this was an accidental shooting," the statement reads "According to them, the shooting did not come from south Ossetian controlled territory, but apparently was a result of the accidental discharge of a weapon. The Russian Border Guards and the de facto South Ossetian authorities were informed," it continues.