Alasania meets American Senators
By Gvantsa Gabekhadze
Friday, July 29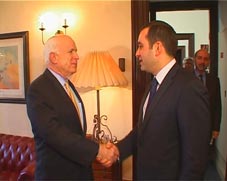 The US Government hopes for an agreement on Georgian election reforms before October between the ruling party and opposition parties, stated Our Georgia-Free Democrats leader Irakli Alasania after his meeting with Senators John McCain and Joe Lieberman on July 28.
"The fact that the Senators found time to speak on Georgian issues during this important period of financial difficulties in the US is a sign of how important Georgia's democratic institutions are for them. Georgian society and the American political leaders all agree that the next elections must be free or else the region might be subject to confrontations and tension," Alasania said. He pointed out that the American side had been informed that the current Georgian authorities have lost the chance to make an agreement, however the US hopes an agreement will be made by October, and that Parliament will adopt a law that reflects the interests of all Georgian society. For this there is strong support from US Congressional representatives.
Alasania repeated that election reforms are not complete and that negotiations between the authorities and the opposition should go on.
However, Georgian ruling party representatives stated recently that negotiations on the issue are finished and that an agreement has already been achieved. They point out that a draft on the issue is being written by majority and opposition representatives and will be discussed by all interested parties before being delivered to the Parliament for confirmation. (A small group of opposition parties have agreed to the authorities' suggestions and have signed a memorandum. These include the Christian-Democrats and New Rights, while most Georgian opposition parties refused the authorities' initiative which they believe lacked a consultative process.)
For an important part of Georgian analysts, Alasania is an acceptable politician and they hold his diplomatic and personal skills in high esteem, however one very significant issue for many is that Alasania lacks engagement in Georgia. "He passes the greater part of his time in the United States and abroad, and has very little contact with Georgian people, especially with voters. This raises serious questions on his future perspectives as a politician in this country. He must have close contacts with Georgians, otherwise success is unlikely," Gia Khukhashvili told The Messenger. Khukhashvili also commented on the current election reform issue often raised by Alasania: "It is difficult to say what might happen regarding election reforms in the country. If the opposition manages to consolidate and confront the authorities, demanding systemic changes, there will be a positive outcome. Based on recent events concerning the arrest and release of photojournalists, a consolidated approach will bring results. Due to persistent statements and strong action, journalists managed to get the detained photographers released." He added that Alasania might perform a similar role in this regard. "If Alasania manages to have permanent contact with people and makes Georgians believe that he is ready to serve their interests, chances are that something will positively change concerning election reforms."