Tbilisi comments on Ankvab's statement on "readiness for dialogue"
By Mzia Kupunia
Friday, July 29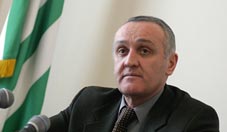 The Georgian authorities have responded to the de facto President of Abkhazia and "presidential" candidate in the upcoming elections, Alexander Ankvab, on the de facto authority's readiness to launch a dialogue with Georgia "without any preconditions".
Speaking to journalists on Thursday, Georgia's Deputy Foreign Minister Nino Kalandadze said "any constructive proposals" on conflict resolution are acceptable for Tbilisi. "Any proposals related to dialogue and conflict resolution and primarily related to the immediate and honorable return of IDPs to their homes are acceptable for us," the Deputy Minister said. According to Kalandadze, the Georgian side is ready to launch negotiations "in any form" with all persons who are authorized to discuss the issues.
As for Ankvab's proposal, Kalandadze expressed doubts that the de facto acting President will be able to act independently. "I doubt that the representatives of the separatist regimes have the possibility to act on their own decision," Kalandadze said. Speaking to the Russian RBK-TV channel, Ankvab said that Abkhazians are not going to live in "eternal rivalry" with anyone.
While "presidential candidate" Ankvab has struck a conciliatory tone, another candidate, de facto Prime Minister of Georgia's breakaway region, Sergey Shamba, has made sharper statements. Speaking to Ekho Moskvy radio station last week he said that the Georgian IDPs who fled Abkhazia during the conflict in the 1990s will not be able to go back to other regions of Abkhazia than the Gali region, located close to the administrative border with Georgia. "A significant number of people--about 50,000--have returned to the Gali region. These are ethnic Georgians and Mingrelians. Over 20,000 of them have Abkhazian passports," Shamba noted. He added that the local authorities are planning to offer them special programs for adaptation.
"However there can be no talk about returning to other regions, because it is unrealistic that the Georgian IDPs will be able to return to the places where there was a mixed population. Because this will lead to new conflicts and to new bloodshed and tensions," he added.
Meanwhile Moscow has said the Kremlin is not expecting to normalize relations with Georgia in the near future. Speaking to the RIA Novosti news agency, the Russian Deputy Foreign Minister Grigory Karasin, said, "The problem is that the Georgian Government is continuing its attempts to persuade the international community and its own population that Georgia is full of Russian spies and saboteurs," Karasin said, adding that "Not many people" believe in verbal statements about the attempts to regulate relations between Georgia and Russia.