Patriarch seeks reconciliation for Abkhazia and South Ossetia
By Etuna Tsotniashvili
Monday, August 15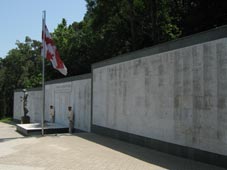 On the 19th anniversary of the start of the war in Abkhazia, the Catholicos-Patriarch of All Georgia and Mitropolite of Tskhum Abkhazia Ilia II supported Abkhazian and Ossetian reconciliation with Georgia. As Ilia II stated at the Sunday sermon, Abkhazians and Georgians should stand together in order not to lose against the enemy.
"I would like to address my parish with great love, Abkhazian believers. We have always been together and we should be together forever if we want to save Abkhazia and the whole of Georgia," the Patriarch stated yesterday adding that Tskhinvali is also Georgia's land. "Together we will be happy. Let the Lord strengthen us," he said.
A number of events dedicated to the 19th anniversary of the beginning of war were held in Georgia. Leader of Free Democrats opposition political party Irakli Alasania arrived on Sunday at Enguri Bridge at the administrative borderline between occupied Abkhazia and the rest of Georgia. Alasania had been visiting Samegrelo Region in the western part of the country for a few days.
"What Georgian authorities can do is to ease conditions of IDPs in order not to feel themselves more oppressed. Unfortunately our authorities do not take into account this fact and it is quite possible that those mistakes made by them may further distance Georgians and Abkhazians," Alasania said.
Alasania also presented his views of returning the lost territories and stressed the significance of public diplomacy and economic strength in resolving the problem.
It is noteworthy that leader of Free Democrats is a son of Mamia Alasania who was a colonel of the Georgian Armed Forces, defending the Government of the Georgian Autonomous Republic of Abkhazia from separatist and Russian fighters during the conflict in Abkhazia in the 1990s. When the city of Sokhumi fell to the Russian-supported separatist forces, Mamia Alasania, along with other patriots refused to flee and was captured by the Abkhaz militants.
Mothers of the killed soldiers laid a wreath at the memorial of the heroes. Members of the veterans' organization also arrived at the memorial.
IDPs lit candles, while clergymen delivered a service for the dead.
IDPs said the Georgian society had to do its best to turn the 14th of August into a day of reconciliation and start negotiations with Abkhazia. They said nothing had been done for the return of Abkhazia and reconciliation for 19 years since the war.
19 years have passed since the launch of Abkhazian war. The military conflict started in Abkhazia on 14 August 1992.
The war lasted for 13 months and 13 days and ended with the fall of Sokhumi and defeat of Georgian armed forces on 27 September 1993.
The Abkhazian self-recognized government celebrates the victory over Georgia and the independence day of Abkhazia on 30 September each year.
About 10 000 Georgian soldiers and civilians were killed in the war. 300 000 IDPs were left homeless.
The Abkhazian side says only 3 500 people were killed and 2 000 were wounded.