Didgori Battle of 1121 remembered
By Messenger Staff
Monday, August 15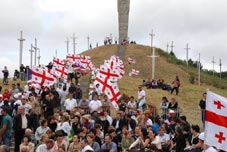 The 890th anniversary of the great Didgori Battle was celebrated in Tetritskaro district in Kvemo Kartli on August 12. Commemorating the amazing victory of King Davit Agmashenebeli (Davit the Builder) against the Great Seljuq Empire in 1121, visitors of the Didgori Valley recollected the historical importance of the date. Davit Bakradze, Parliamentary Chairperson congratulated the Georgians with the traditional event and spoke of Didgori Battle as the "symbol of the greatest Georgian victory". "Didgoroba emphasizes Georgia's eternity, it's the symbol of our success," Bakradze stated.
The victory at Didgori inaugurated medieval Georgia's "Golden Age" and is celebrated in the Georgian chronicles as a "miraculous victory". Wishing the future generations to have similar bright events like Didgoroba, the Parliamentary Chairman attended various theatric performances where the actors of Rustaveli and Griboedovi Theatres re-enacted scenes from the life of the great King Davit and his address to the army before the Didgori Battle.
The visitors had a wonderful opportunity to enjoy the poetry of Georgian authors, listen to Georgian musicians and buy hand-made souvenirs. Georgian traditional cuisine attracted wowed the guests and received great applause among the tourists who happily tried different dishes at special pavilions while watching horse-racing, wrestling and arm-wrestling. Governor of Kvemo Kartli Davit Kirkitadze wished everyone peace and victory, while Levan Vepkhvadze MP from the Christian-Democratic Movement (CDM) hoped that the diplomatic wars Georgia is having nowadays would have a successful outcome for our country.