Debate over Selling Shares in Strategic Assets Continues
By Ernest Petrosyan
Thursday, September 15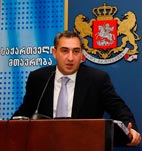 "The Georgian government will not sell its controlling stake in strategic companies," stated PM Nika Gilauri at a government session on September 14. On September 13, The Georgian parliament approved the draft allowing the government to offer stakes of state enterprises on international stock markets on its first reading. This initiative was firstly announced by PM Nika Gilauri in August when he said that the legislative amendment was to be prepared for an initial public offering (IPO) of 15 – 25% stakes in state-owned enterprises. The range of the IPO stake, however, has been increased from the initial 15-25% to a 49% stake.
"Our aim is to place small 20-25-30% packages the strategic companies on international markets. The government will own 51% or more and accordingly will maintain its control over these companies. On no account will more than 49% of the shares be sold," stated Gilauri. According to the prime minister, if these transactions are implemented within the next few months, more than USD 500 million inflows are expected, which, Gilauri assumes, will bolster employment and will enable additional projects.
Gilauri's proposal, as expected, created a reaction among parliamentary and non-parliamentary opposition parties as well as heated discussions among political and economic analysts. The opposition criticized the proposal claiming that there was no reason to trust the government's "verbal assurances" that it was considering an IPO of only minority stakes.
"It amounts to enmity to the country's interests and the undermining of the economic interests of our country and its geopolitical function," MP Giorgi Targamadze, leader of Christian-Democratic Movement a parliamentary minority group, said during the debates.
"The controlling stake of these assets will always and forever be under state ownership," said ruling party lawmaker Zurab Melikishvili, who chairs the parliamentary committee on finances and budget. Last month Irakli Alasania, leader of the Free Democrats, said that the initiative posed "serious risks" and that any final decision on the matter should be preceded by broad public discussions.
At first glance, it might seem a good economic deal aimed at attracting investment, despite the possible political threats related to these companies, which are of strategic importance. Among these enterprises are the Georgian Railway and the Georgian State Electric System, which is in charge of power transmission throughout the country, the Georgian Oil and Gas Corporation [GOGC], which operates the North-South Gas Pipeline, transporting gas from Russia to Armenia via Georgia. As for the last one GOGC, the government is considering an amendment which will reduce the government's ownership from 75% to 50%, nonetheless maintaining the controlling stake. Currently, about 75% of Telasi (the Tbilisi electricity supplier) is owned by the Netherlands-registered Silk Road Holdings B.V., which is wholly owned by Russia's state-controlled power trader, Inter RAO.
Speaking to
The Messenger
economic analyst Shota Murghulia expressed his concern about floating the increased stake. "Firstly, there are no political guarantees that in a couple of years another government will not sell additional shares, thereby losing control over these companies. Secondly, it is nonsense to sell the natural gas pipeline [through which Russia supplies Armenia] since it will definitely have negative consequences for Georgia, namely the country will lose its geopolitical advantage, to some degree." Murghulia noted that a few years ago, when this pipeline was first supposed to be sold, Russia's GAZPROM, an Armenian company, and Azeri Socar, all expressed an interest in acquisition. Socar finally offered the highest price since for Azerbaijan possession of the pipeline is politically beneficial due to its ongoing conflict with Armenia. As for Georgian Railway, Murghulia said that it might be reasonable to sell, since it has to be modernized and needs additional investments.