Poti to Get International Airport
By Messenger Staff
Friday, September 16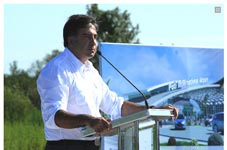 Another international airport will be opened in Georgia soon. In approximately 18 months, the Black Sea town of Poti will be able to receive international flights. On September 14, the President of Georgia, Mikheil Saakashvili, visited Poti where he became familiarized with ongoing activities and laid a symbolic capsule at the base of airport. Mikheil Saakashvili talked about the prospects of development in Poti and the significance of the new airport.
The president said Poti International Airport was expected to become a precondition for development of the tourism infrastructure in the region. He also said the airport would be the largest and most contemporary in Georgia and in the region as a whole.
"Poti airport is a very serious breakthrough for us in terms of developing this region as well as the whole of Georgia. This is an ideally selected town and site for the most important infrastructural project in this field," Saakashvili said.
"This airport is going to work in any kind of weather. All types of aircraft will be able to land in this airport. This is going to be the most contemporary airport in Georgia and Caucasus. This is going to be an airport which will permanently bring tourists, businesspersons. This airport is going to earn more income for each of our families," he added.
The company Rakia Georgia is administering the constructions works, which will be completed in 2013.