New School Year Begins
By Messenger Staff
Friday, September 16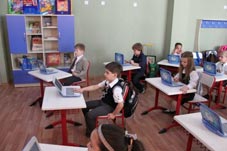 On September 15 the new academic year started in 2,100 public schools throughout Georgia. The Education Ministry has been intensively preparing for the new school year. This year there are reportedly 60,000 first graders in the country.
A new curriculum has been worked out which will bring about a range of different reforms in the system. Among the forthcoming reforms are teaching new school subjects, the introduction of contemporary infrastructure in schools, and greater encouragement of schoolchildren.
President Mikheil Saakashvili congratulated pupils of the first experimental school of Tbilisi, where he had studied, on the new academic year and noted the restored school building. Saakashvili looked around a classroom equipped with contemporary technologies assisting the learning process for children. The classroom had been made possible by Geocell, the mobile provider, telecom company.
The classroom is equipped with electronic boards. Schoolchildren are able to study natural sciences using virtual laboratories. They are also able to save electronic versions of their lessons and use them whenever they like.
"When I saw a commercial for Geocell, we had the idea that the commercial could be in the 21st century and in real life. I'm glad that Geocell did this. Next year, there will be such classrooms in other schools, and by 2015, every class in Georgia must be like this," Saakashvili said, adding "why were pre-Rose Revolution children more disadvantaged? Because we didn't have computers." The president also entered an English language class and spoke with the teacher.