In New York Saakashvili Links Arab Spring with Color Revolutions
By Ernest Petrosyan
Thursday, September 22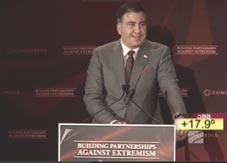 "The universal call for freedom is the basis on which we have to build our strategy against extremism and terrorism, because freedom and democracy remain more than ever our best weapons against extremism-which is precisely why the extremists loath them so much," stated Georgian President Mikheil Saakashvili in New York on September 21, in his speech opening the Concordia Summit, dedicated to the tenth anniversary of the 9/11 tragedy. "Such a call for freedom is the motor of history and today this call is all over the Arab world," said Saakashvili referring to the recent chain of revolutions in North African countries and beyond.
"Nobody predicted or planned the revolutions that swept across Eastern and Central Europe in 1989, or the colored revolutions that came 15 years later. Now again, history has caught all of us by surprise with the wave of revolutions in North Africa and the tectonic shifts taking place in the Arab world and beyond," Saakashvili said.
He continued his speech talking about Georgia's revolutionary experience, post revolutionary consequences, and the country's achievements as a result of the revolution and reforms. "As most of you know, seven years ago, Georgia was basically a failed state with a dying economy, a country shackled by corruption. As you may know as well, a peaceful, popular revolution brought to power a young team of reformists that I was fortunate enough to lead. From one day to the next we were in charge of a fragile country - in a hostile geopolitical environment, with an increasingly revisionist Russian Federation at our door," Mikheil Saakashvili said.
Saakashvili made parallels with the recent revolution in Arab world. According to the president the revolutionary tools used by the opposition would no longer suffice since real revolution starts later.
"The fantastic pictures on CNN of people celebrating their victory in Tahrir Square or of Libyan citizens dancing in Gaddafi's palaces are inspiring, but the success of the Arab revolutions will depend on what happens after the Western TV lights have been turned off. In Georgia, when Western TV crews left, we initiated this radical and comprehensive transformation of our society that was described recently by The Economist as a "mental revolution"," Mikheil Saakashvili said.
Saakashvili admitted that in the reform process there were significant shortcomings and mistakes made. "You cannot be ready to be free until you are free" added Saakashvili, citing philosopher Immanuel Kant.
The president told the audience about the most crucial reforms in Georgia. "Thanks to radical changes in our police and in all our other bureaucratic structures - and thanks to this widespread feeling among people that they owned these transformations - we have made greater progress on Transparency International's Corruption Index since 2003 than any other state in the world".
He also talked about economic development citing the data of various international financial institutions. "We have built a highly favorable investment climate and we are now ranked as one of the easiest places in the world to do business, according to the World Bank: 12th in the world and first in Central and Eastern Europe. The 2011 EBRD survey on countries in transition singles out Georgia as the most successful country in our region in terms of institution building, on a par with the Baltic States. There is still a lot to be done, obviously, and we are more committed than ever to pursuing our path of reforms, to keep building a democracy at gunpoint," Saakashvili said referring to the threat of intervention from Russia following war in 2008.