Vashadze in Oceania, Tuvalu Recognition Issue on Agenda
By Ernest Petrosyan
Tuesday, September 27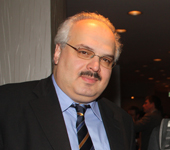 Deputy Foreign Minister David Jalagania spoke to journalists at his standard Monday briefing confirming that the Ministry of Foreign Affairs (MFA) had rendered assistance to Tuvalu, an island nation that reportedly recognized Georgia's breakaway regions recently. Jalagania could not ascertain the amount of the aid, but he however, confirmed that upon request Georgia had indeed provided medical equipment to Tuvalu. "Nothing is surprising here. It is an ordinary event. We assisted Tuvalu with medical equipment," David Jalaghania said.
Regarding recognition of Georgia's breakaway regions of Abkhazia and South Ossetia the deputy minister said that this information had only been spread by the Russian and Abkhazian media, and if this information is confirmed the Georgian side would react adequately. If the reports are true, after Nauru, Tuvalu will be the second country in Pacific Ocean to have already recognized the separatist regions.
Given this, perhaps it is no coincidence that, as Jalaghania reported, a Georgian delegation headed by Foreign Minister Grigol Vashadze will be away on a 10 day visit to Oceanic states including Australia, New Zealand and the Fiji islands from September 28. As Jalagania clarified, this visit will establish and strengthen the diplomatic ties between these countries and Georgia. He also added that a Georgian Embassy will be opened in Canberra the Australian capital. "This will enable us to deepen diplomatic ties with Australia and the Oceanic states," he noted.
In other MFA-related news, an alleged incident on the Georgian-Azerbaijan border is also something the ministry will be looking into. As MP Dimitri Lortkipanidze reported, a teacher of Georgian in the Aliabada village, Elinati Safarova, called him asking for assistance. The teacher complained that Azerbaijani officials had deprived of her Georgian textbooks while crossing the border. Safarova said that such actions are aimed at closing the Georgian faculty in the school, citing that no textbooks in Georgian are available.
The MFA claimed that it does not have any information about the incident, though Jalagania also said that the ministry will look into it and react accordingly. "We will indeed take an interest in this case, since it refers to a Georgian citizen, as protection of the rights of our citizens is the obligation of any governmental agency, including the Ministry of Foreign Affairs. We will have a relevant reaction after we have further information," Jalagania said.
Jalagania also noted that the demarcation of the Georgia-Azerbaijan border has not changed since the beginning of this year. According to him, no new territory was added to the agreed borders though 160 out of 450 kilometers are yet to be negotiated and settled upon, Jalaghania said. "Demarcation commissions have been set up by both sides. We have active contacts. We hope our efforts will yield results," Jalaghania said.
Finally, Jalagania reported that, "Georgian citizens and residents will be issued "C" category 90 day visas which will cover Austria at the Swiss Embassy in Tbilisi." According to Jalagania, the issuance of C category visas will start from October 1. As Jalagania noted, to receive such a visa applicants had in the past to travel and apply to the Austrian embassy either in Baku or Kiev. "As for the issuance of "D" category Austrian visas which exceed the 90 day limit, people still will have to apply to the Austrian embassy [in other countries]," said Jalagania.